TEHRAN - Russia has indicated it will not allow the United States to use a radar station in Azerbaijan for missile defense against Iran, an Iranian foreign ministry spokesman was quoted by the IRNA news agency as saying on Sunday.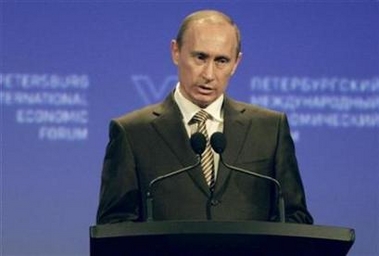 Russian President Vladimir Putin speaks at the St. Petersburg International Economic Forum June 10, 2007. [Reuters]


Russian President Vladimir Putin, in dispute with the United States over the location in eastern Europe of a planned American missile defense system, had offered instead to share a radar site in Azerbaijan.

But Iran's Foreign Ministry spokesman Mohammad Ali Hosseini said Russia had no intention of letting Washington use the station in Azerbaijan, which has borders with Iran and Russia.

"It seems Russia does not intend to make decisions that may result in instability and insecurity in a region that it is located itself in," Hosseini told a weekly news conference.

The United States told Russia on Thursday the Kremlin's offer could not replace its plans to site the missile shield in eastern Europe to counter any missile launch by Tehran.

The West fears Iran wants to make an atomic bomb but Tehran says its atomic work is aimed only at generating electricity.

The United States says it seeks a diplomatic solution to the dispute, but has not ruled out military action. Iran has threatened to strike US interests around the world and Israel if attacked.

Hosseini said Putin's proposal was discussed with the Russian and Azerbaijani ambassadors to Tehran.

"Iranian ambassadors to Russia and Azerbaijan have also discussed the issue with both countries' officials," Hosseini said.

Washington plans to use interceptors in Poland and radar in the Czech Republic, a configuration Washington says would be ideal for blocking any missile, particularly from Iran, heading towards the United States and most of Europe.

Russia has said the US scheme is a threat to its own security and that the proposed US bases on its doorstep could be converted to more dangerous uses in the future.

The project has also raised concerns in Iran, which says its missile program is not designed to threaten the West.

Iran's Shahab-3 missile, with a range of 1,250 miles (2,000 km), is capable of hitting Israel and US bases in the Gulf, Iranian officials say. Iran has refused to recognize Israel since its 1979 Islamic revolution toppled the US-backed Shah.