RAMALLAH, West Bank: Palestinian President Mahmoud Abbas swore in an emergency Cabinet yesterday and outlawed the militia forces of the Islamic Hamas movement, deepening the violent rupture in Palestinian society.
Hamas seized control of Gaza last week after a series of bloody battles with Abbas' Fatah movement. The violence left Gaza increasingly isolated, a situation worsened yesterday when an Israeli fuel company cut off deliveries to gas stations in the impoverished coastal strip.
The hurried swearing-in ceremony of the new Cabinet left the Palestinians effectively with two governments - the Hamas leadership headed by deposed Prime Minister Ismail Haniyeh in Gaza and the new Cabinet led by internationally respected economist Salam Fayyad.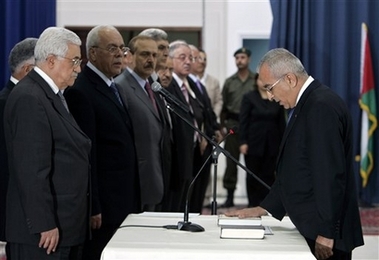 Palestinian President Mahmoud Abbas, left, looks at newly-appointed Palestinian Prime Minister Salam Fayad, placing his hand on the Quran, during a swearing in ceremony for the new government at Abbas headquarters in the West Bank town of Ramallah, Sunday, June 17, 2007. [AP]


"The first priority of our government is security and the security situation," Fayyad told reporters. "The mission will be difficult and hard, but not impossible."

Abbas issued a decree early yesterday annulling a law requiring the new government to be approved by parliament, which is dominated by Hamas.

In Gaza, Haniyeh called the new government illegal and insisted he remains in power. "The council of ministers considers the steps adopted by President Mahmoud Abbas to ... have no basis in law," he said. "The national unity government asserts here that we are fulfilling our duty according to our law."

Fayyad, an independent, will retain his post as finance minister and also serve as foreign minister in the emergency government, which Abbas appointed to replace the Hamas-led Cabinet he fired after Hamas seized control of Gaza.

The small emergency Cabinet is dominated by independents, including human rights activists and business people. Interior Minister Abdel Razak Yehiyeh is one of the few politicians in the lineup.

In taking office, Fayyad said the new government would work to end the chaos.

Addressing the Palestinians in Gaza, he said: "You are in our hearts, and the top of our agenda. The dark images, the shameful things that are alien to our traditions ... are not going to stop us."

It is "time to work together for Palestine", he said.

Abbas also issued a decree yesterday outlawing Hamas' militias, "due to their military coup against the Palestinian legitimacy and its institutions".

"Anyone who is involved in any of these two groups is going to be punished, according to the law and the orders of the state of emergency," the decree said.

Agencies

(China Daily 06/18/2007 page1)