Arab foreign ministers will hold an extraordinary meeting in Cairo on Friday to discuss the violence in Lebanon and the Gaza Strip, a league official told AFP.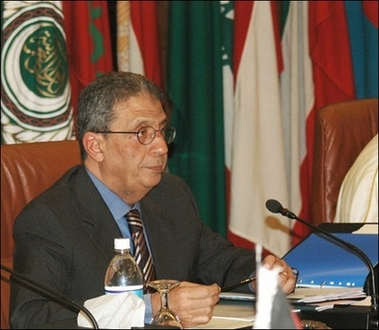 Arab League Secretary General Amr Mussa attends a meeting at the Arab League headquarters in Cairo, 2006. Mussa called for an immediate halt to deadly infighting in the Gaza Strip, warning of the danger it poses to the Palestinian cause.[AFP]


"We will hold an extraordinary meeting on Friday to examine the situation in the Palestinian territories and in Lebanon," Hisham Yussef, Arab League Secretary General Amr Mussa's chief of staff told AFP late Wednesday.
Yussef said the meeting -- initially scheduled for Saturday -- had been brought forward because of the severity of the situation.
On Wednesday, Lebanese Prime Minister Fuad Siniora called for crisis talks to discuss the murder of MP Walid Eido, a vocal critic of the Syrian regime, who was killed along with his eldest son, two bodyguards and six other people in a seafront bomb blast.
In the Gaza Strip, fierce gunbattles between loyalists of president Mahmud Abbas' Fatah party and supporters of the Islamist Hamas movement have killed more than 70 people in three days and were continuing in Gaza City on Thursday.