HONG KONG - Most of the North Korean funds long frozen in a Macau bank have been transferred, an official said on Thursday, raising the prospect of an end to the deadlock stalling a nuclear disarmament deal with Pyongyang.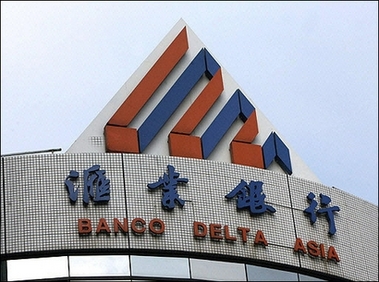 Logo of Banco Delta Asia is displayed at its headquarters in Macau. The United States expects resolution "very soon" of a longstanding banking dispute with North Korea, paving the way for Pyongyang to begin dismantling its nuclear arsenal, the top US nuclear negotiator said Wednesday.[AFP]
"Francis Tam confirmed that Banco Delta Asia has remitted a sum of over US$20 million out of Macau," a Macau government spokesman said, referring to the territory's secretary for economy and finance.
North Korea has refused to honour a February agreement to begin shutting its Yongbyon nuclear reactor and source of material for atomic weapons until $25 million at Macau's Banco Delta Asia are released through normal banking channels.
The funds were blocked after the United States blacklisted Banco Delta Asia, accusing it of laundering illicit funds for Pyongyang.
Banks had balked at acting as a conduit for the money to be returned to North Korea because of the stigma attached to holding Pyongyang's assets.
Japan's Kyodo news agency, citing Macau financial authorities, said the funds were expected to be transferred through the New York branch of the Federal Reserve and Russia's central bank to a Russian bank where North Korea holds accounts.
Russia said on Wednesday it would allow one of its banks to transfer the $25 million stuck in Banco Delta Asia, provided Washington gave written guarantees that it would not fall foul of US sanctions against North Korea.
The unblocking of the money would in effect allow the state -- which conducted its first nuclear test last year -- back into the international banking system from which it is currently ostracised.
More Talks?
The Macau government spokesman said the remittance was done "in accordance to the instruction of a client" from North Korea.
As to where the sum went, the bank has declined to comment, citing privacy concerns, he added.
China, which chairs the six-party talks on North Korea's nuclear programme at which the February deal was reached, said earlier on Thursday that member countries were working on the funds transfer.
Foreign Ministry spokesman Qin Gang added at a news conference that Beijing was willing to resume the six-country talks once all parties -- the two Koreas, the United States, China, Russia and Japan -- were in agreement to do so.
Assistant Secretary of State Christopher Hill, the top US negotiator with North Korea, is likely to visit China, Japan and South Korea next week after attending a conference in Mongolia this weekend.
Under the February agreement struck by the six parties, North Korea is slated to get 50,000 tonnes of heavy fuel oil, or its equivalent, once it completes initial steps, including shutting down Yongbyon.
During the next phase of the pact, which includes making a complete declaration of all its nuclear programmes and disabling all its nuclear facilities, North Korea will get economic, energy and humanitarian aid up to the equivalent of a further 950,000 tonnes of heavy fuel oil.