UNITED NATIONS -- The UN Security Council on Wednesday welcomed Sudan's nod for a joint African Union-UN force to end bloodshed in Darfur and urged "timely and full implementation" of the deal, after getting assurances that Khartoum means business.

Belgian Ambassador Johan Verbeke, the council chair this month, said the 15 members welcomed the Sudanese move after UN Undersecretary General for peacekeeping operations Jean-Marie Guehenno gave assurances that "we can move forward."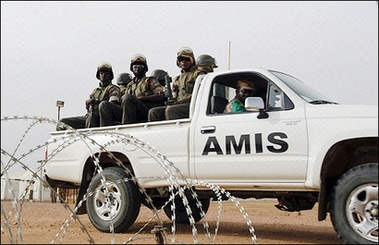 An African Union Mission in Sudan platoon leaves Zamzam base to patrol just south of El-Fasher in the war-torn western region of Darfur, in 2006. [AFP file]


He told reporters that council members "call for the timely and full implementation of the agreement" reached by the AU, the UN and Sudan in Addis Ababa Tuesday.
UN chief Ban Ki-moon hailed the accord as "a milestone development" that he was working to implement "as soon as possible."
"We are moving in the right direction," he told reporters.
Ban, whose plea for patience in persuading Khartoum over the past five months appears to have been vindicated, expressed surprise at the skepticism expressed by some quarters about Sudan's turnaround, particularly in the United States.
Guehenno described Tuesday's accord as "a step forward," noting that "the government of Sudan is now on board with the AU-UN agreement on the basis of the clarifications we provided."
"We need to build on that ... This is not the end of the road," he added.
Verbeke said the council also expressed support for UN efforts to bolster and broaden last year's peace agreement between Khartoum and Darfur rebels and called on all the parties to cooperate.
Council members demanded the "immediate and unconditional respect of a ceasefire" in Darfur and the ambassadors now looked forward to their scheduled meeting in Khartoum Sunday with Sudanese President Omar al-Beshir, he said.
Around 7,000 AU peacekeepers in Darfur have been unable to halt the clashes in a region the size of France because of a severe shortage of funding and equipment.
Dimitri Titov, an aide of Guehenno, said Tuesday in Addis Ababa that the so-called "hybrid" AU-UN force would comprise between 17,500 and 19,600 troops in addition to more than 6,000 police.
Khartoum had previously rejected attempts to send large numbers of UN peacekeepers to Darfur, where at least 200,000 people have died in a four-year conflict and more than two million forced from their homes, according to the UN.
But Sudan finally relented in the face of intense world pressure and threats of tougher UN sanctions amid concern about the worsening plight of Darfur civilians.
South African ambassador Dumisani Kumalo and his Chinese counterpart Wang Guangya said tougher UN sanctions against Khartoum, which the United States and Britain had threatened, were no longer justified.
"We believe we have the fundamentals of an operation that will allow the UN and the AU to give joint strategic direction on the ground," Guehenno said.
One tricky issue is who will have effective control of the joint force.
It was agreed that the UN would be in charge of command and control in line with all its peacekeeping procedures but that an African general would have operational control on the ground.
Guehenno said this was explained to the Sudanese in Addis Ababa and they did not challenge it.
As to Sudan's insistence that the joint force for Darfur be mainly composed of African troops, Guehenno said this had been the plan all along.
"We are going to make every efforts to preserve the African character of the mission," he said. "We think we are going to be able to do that because we have offers from African countries."
But Guehenno said Khartoum accepted the fact that if specialized capacities could not be found in Africa, the UN would have to look elsewhere.
As to the timetable for the deployment, Guehenno said a 3,000-strong contingent that is to provide logistical support to struggling AU troops in Darfur should begin heading there in the coming months.
He said that contingent is to be the backbone of the larger hybrid force, expected to begin deploying early next year.
The Darfur conflict broke out in 2003 when government forces, including its Janjaweed Arab militias, began fighting rebel groups which had taken up arms in protest at what they saw as an unfair distribution of resources.