KHARTOUM, Sudan - The new French foreign minister said Sudan's president told him in a meeting Monday that he now fully agreed to a "hybrid" UN-African Union peacekeeping force of more than 20,000 to stop the bloodshed in Darfur but was adamant that all of them must come from Africa.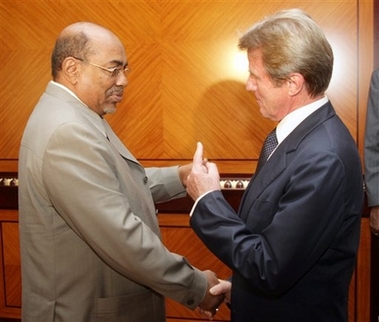 Sudanese president Omar Al-Bashir, left, receives French Foreign Minister Bernard Kouchner in Khartoum, Sudan, Monday, June 11, 2007. [AP]


French Foreign Minister Bernard Kouchner met Sudanese President al-Bashir for an hour in the Sudanese capital Khartoum to press him to commit to a 23,000-strong joint force for Darfur which the United Nations and western nations have been advocating for many months.
During their closed-door meeting, Kouchner said al-Bashir also brought up Sudan's embattled relations with the US, which recently beefed up unilateral sanctions against the administration. Kouchner said he was not convinced sanctions were useful, but the Sudanese "seem clearly affected by this issue, considering how much they raised it."
The hybrid force is the final phase of a three-stage UN plan to bolster a poorly equipped and underfunded force of 7,000 AU peacekeepers, which has been unable to end four years of death and destruction in Darfur. Al-Bashir agreed to the package in November, but stalled acceptance of the first two phases and has since backtracked on his approval.
UN Secretary-General Ban ki-Moon told reporters he received a letter from al-Bashir a few days ago responding correspondence from Ban on a revised plan for the hybrid force. He said the UN, the AU and Sudan were holding talks Monday and Tuesday in Addis Ababa, Ethiopia on the proposal.
In the letter dated June 4, al-Bashir said his government was "generally in agreement with the principles" in Ban's letter which also called for a cease-fire and political talks. The letter said Sudan's government was "currently busy studying" the proposal for a hybrid force. The letter was obtained by The Associated Press on Monday.
Sudan previously agreed to a cease-fire to facilitate the political process, al-Bashir wrote, but rebels who have not signed the May 2005 Darfur Peace Agreement initiated attacks.
"We are ready to commit ourselves to an immediate cease-fire within a comprehensive package to be coordinated by the United Nations and the African Union along the lines of reinvigorating the political process," he said in the letter.
"I think this is the most positive letter we've had since the beginning of the talks," UN spokeswoman Michele Montas said.
Kouchner said al-Bashir insisted that only African soldiers should contribute to the new force, with the UN serving as a logistical backer. The UN and AU have pledged to seek African troops first, but say they will use non-African troops if necessary.
"Darfur cannot be only an African problem," Kouchner said. "At a certain level, the respect for human rights concerns the whole world."
More than 200,000 people have died in the western Sudanese region of Darfur and 2.5 million have been chased from their homes since 2003, when local rebels took up arms against the Sudanese government, accusing it of decades of neglect. Sudanese leaders are accused of unleashing the pro-government Arab militia, the janjaweed, that has committed many of the conflict's atrocities - a charge they deny.
Kouchner, a co-founder of the international aid group Doctors Without Borders who has extensive experience in Sudan, is hoping to use his clout as a former humanitarian activist to boost diplomatic efforts to end Sudan's standoff with the West.
With his trip to Khartoum, France becomes the latest Western nation to try to exert pressure on Sudan's leaders to end the violence in Darfur. France's newly elected President Nicolas Sarkozy has vowed to make Darfur a priority, and his appointment of Kouchner as the country's top diplomat reflects that.
France also plans to host an international conference later this month with European countries and envoys from Egypt, the US and China to help revive the Darfur peace process. A one-year-old peace treaty between the government and one of Darfur's rebel groups has not halted the fighting.
Kouchner said his talks with al-Bashir and other top Sudanese officials, including a former Darfur rebel leader, had helped "lift a certain number of complications" with the Sudanese.
The French minister's talks with al-Bashir appeared unusually cordial, and the two men embraced and joked in front of the cameras at the start of their meeting.
As a humanitarian worker, Kouchner often operated clandestinely in southern Sudan during a separate civil war there, building ties with several former southern rebels who now hold government positions in Khartoum.
"We are very glad to greet you officially in Sudan now," al-Bashir told Kouchner, adding that their relationship went "back a long way."
The UN Security Council will be briefed on the outcome of the Addis Ababa talks on Wednesday, a day before council members head to Africa. The trip includes stops in Addis Ababa on Friday and Saturday and Khartoum on Sunday, where additional discussions on the hybrid force are expected.