WASHINGTON - Public approval of the job President Bush is doing now matches its all-time low, with widespread discontent over how he is handling the war in Iraq, efforts against terrorism and domestic issues, an AP-Ipsos poll released Thursday said.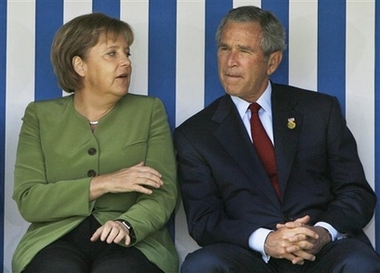 German Chancellor Angela Merkel and US President George Bush speak to each other in a giant beach chair at historic Heiligendamm, Germany, Thursday, June 7, 2007. [AP]


Only 32 percent said they were satisfied with how Bush is handling his job, the same low point the measure hit last January.
On issue after issue, approval of Bush's efforts matched previous lows, underscoring the challenges Republican presidential and congressional candidates will confront next year when they face voters.
Twenty-eight percent were satisfied with his handling of the war in Iraq.
Only a third approved of how Bush is handling domestic issues like health care, with the same proportion expressing satisfaction with his job on foreign policy and the war on terror. Another 37 percent said they approved of his handling of the economy.
In another indication of the public's bleak mood, only 21 percent said they believe things in the US are heading in the right direction, the worst mark since the AP-Ipsos poll began in December 2003.
The poll involved telephone interviews with 1,000 randomly chosen adults from June 4 to 6. It had a margin of sampling error of plus or minus 3 percentage points.