A car bomb exploded in a market just outside Iraq's western city of Falluja on Tuesday, killing 19 people and wounding 25, police said.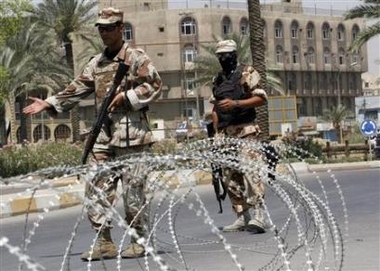 Iraqi soldiers stand guard behind barb wire at a checkpoint in Baghdad June 5, 2007. [Reuters]


No other details were immediately available.
Falluja, 50 km (35 miles) west of Baghdad, is in Anbar province, a stronghold of the Sunni Arab insurgency in Iraq.
Some Sunni tribes have been engaged in a war against al Qaeda militants over control in Anbar. They have joined forces with police to combat al Qaeda militants who are targeting tribes who cooperate with authorities.
The U.S. military has more than 6,000 troops in Anbar, where commanders have said al Qaeda accounts for about 75 percent of militants in and around Falluja.