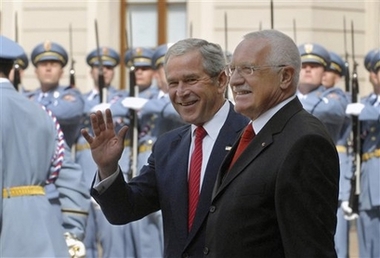 U.S. President George W. Bush, left, and Czech President Vaclav Klaus view the Honour Guard during the welcome ceremony at Prague's Castle, Czech Republic, on Tuesday, June 5, 2007. U.S. President George W. Bush arrived to the Czech Republic Monday for a two-day working visit. [AP]


President Bush risked further stoking a testy dispute with Russia over a new U.S. missile defense system on Tuesday, saying Moscow has "derailed" once-promising democratic reforms.
In a speech celebrating democracy's progress around the globe — and calling out places where its reach is either incomplete or lacking — Bush said that free societies emerge "at different speeds in different places" and have to reflect local customs. But he said certain values are universal to all democracies, and rapped several countries for not embracing them.
"In Russia, reforms that once promised to empower citizens have been derailed, with troubling implications for democratic development," Bush said, speaking at a conference of current and former dissidents.
The president asserted that this discussion of democratic backsliding in Russia under the leadership of President Vladimir Putin was just one part of a strong relationship. "America can maintain a friendship and push a nation toward democracy at the same time," Bush said.
But the lecture, however gentle, was not likely to be well-received by Putin, already riled over what he sees as unwelcome meddling by the United States in Russia's sphere of influence.
Most recently, Moscow has become increasingly irritated by U.S. plans to build a missile shield in Eastern Europe, on Russia's doorstep.
U.S. officials have been alarmed by threatening statements from Putin and others over the proposed network. Russia believes the system — with a radar base to be sited in the Czech Republic and interceptor missiles in neighboring Poland — is meant for it. Putin has said he has no choice but to boost his nation's own military potential in response.
Putin warned over the weekend that Moscow could take "retaliatory steps" including aiming nuclear weapons at U.S. military bases in Europe. China on Tuesday joined Russia in saying the shield could touch off a new arms race.
"Part of a good relationship is the ability to talk openly about our disagreements," Bush said in the speech at Czernin Palace. "So the United States will continue to build our relationships with these countries and we will do it without abandoning our principles or our values."