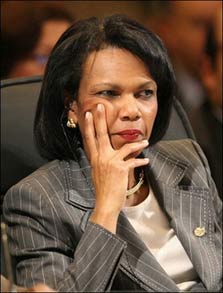 US Secretary of State Condoleezza Rice, pictured in Panama City, June 4, warned Russian President Vladimir Putin that Washington and its allies cannot be divided on their mutual defense. [Agencies]


Panama - US Secretary of State Condoleezza Rice Monday warned Russian President Vladimir Putin that Washington and its allies cannot be divided on their mutual defense as a bitter row escalated over a proposed US missile defence shield in eastern Europe.

"The security of the United States and the security of European allies is indivisible," Rice said on the margins of the Organization of American States gathering here.

"It doesn't really help anybody to start threatening Europeans," said Rice.

The top US diplomat said relations between the two countries had been transformed since the Cold War and that there was no need to revert to hostile rhetoric from a bygone era.

Rice said US officials "don't consider Russia adversary and I hope they don't consider the United States an adversary."

She said that Washington and Moscow "are cooperating in a whole range of things," including nuclear proliferation, Iran, North Korea and terrorism.

"This is 2007 and not 1987," Rice continued.

"This isn't the Soviet Union and we need to drop the rhetoric that sounds like what the United States and the Soviet Union used to say about each other, and realize that the United States and Russia are in a very different period."

Rice said that US officials "have been very active in talking to the Russians about this, not just explaining, but exploring it.

"We are prepared to do more of that," she said.

Putin recently talked openly of a "new arms race" and warned that Russia would have new targets in Europe if Washington went ahead with plans to place elements of a missile defence system in the Czech Republic and Poland, countries once under Moscow's rule but now members of NATO.

Earlier, the White House struck a restrained tone, describing Putin's latest comments in a missile defense feud with the United States as "not helpful."

"There has been some escalation in the rhetoric. We think that that is not helpful," US national security adviser Stephen Hadley told reporters as US President George W. Bush traveled to Europe.

"We would like to have a constructive dialogue with Russia on this issue. We have had it in the past," Hadley said, with Bush due to see Putin at a summit of industrialized nations in Germany this week.

Hadley had been asked about a possible US response after Putin again blasted US plans to deploy a missile shield in Europe and warned that Moscow could redeploy missiles aimed at targets on the continent.

"It does not pose a threat to Russia. Hopefully it is not about a threat from Russia," said Hadley, who added that the two leaders would discuss the issue at the summit in Germany and in a US summit in early July.

Bush will use a speech in Prague on promoting democracy around the world to underscore the need for democratic reforms in China and Russia amid US complaints that Putin has retreated from such openings, said Hadley.

"He'll talk a little bit about the challenge of promoting democracy in countries -- big countries, in particular, where we have a complex relationship with a lot of interests, places like China and Russia," said Hadley.

"The speech is not about Russia, it's about the freedom agenda," he insisted, adding that "the president will handle this in a very responsible way" to avoid further inflaming relations.

Russia will be a focus of the speech because "there are no exceptions to the freedom agenda. So obviously when we look for the progress of freedom and democracy, we look at the progress of freedom and democracy in Russia and China" said Hadley.