BAGHDAD - The number of civilians killed in Iraq jumped to nearly 2,000 in May, the highest monthly toll since the start of a US-backed security crackdown in February, according to figures released on Saturday.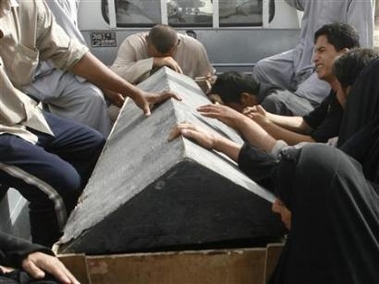 Relatives grieve around the coffin of a man who was killed during a joint raid by the US-Iraqi forces in Baghdad's Sadr City June 1, 2007. The number of civilians killed in Iraq jumped to nearly 2,000 in May, according to figures released on Saturday. [Reuters]


Militants blew up a strategic bridge that links Baghdad to the northern cities of Kirkuk and Arbil, and a mortar barrage on the Sunni enclave of Fadhil in mainly Shi'ite eastern Baghdad, killed 10 people and wounded 30, police said.
In Arbil, the capital of Iraq's autonomous Kurdistan region, Iraqi Prime Minister Nuri al-Maliki and Masoud Barzani, president of Kurdistan, urged Turkey not to send troops into the region to crush Kurdish separatist rebels believed to be hiding there.
An Interior Ministry official, who did not want to be named because he was not authorized to release the figures, said 1,944 civilians were killed in May, a 29 percent hike over April. At least 174 soldiers and policemen were killed in the same period.
The death toll was based on statistics compiled by Iraq's ministries of interior, defense and health on the number of people killed and wounded in attacks in Iraq.
After three months of declines, there has been a sharp rise in the number of sectarian murders in Baghdad. Mortar attacks in the capital are becoming deadlier and car bombs remain common.
At least 20 people were killed and dozens injured in two mortar attacks on Shi'ite and Sunni neighborhoods in Baghdad in the past 48 hours. In Saturday's attack, 10 people were killed in a barrage on the Sunni Fadhil district
Police, who reported fewer than 10 sectarian murders a day in the first weeks of the security crackdown, are now typically reporting 30 or more.
US military commanders says this is a spike, not a trend, and the full impact of the crackdown will not be known for months.
FIGURES POLITICALLY SENSITIVE
The United Nations has rebuked Iraq's government for refusing to disclose the politically sensitive civilian casualty figures in what it calls a "rapidly worsening humanitarian crisis."
Maliki's government has accused the U.N. mission in Iraq of exaggerating the death toll from sectarian violence between majority Shi'ite Muslims and minority Sunni Arabs, and banned Iraqi officials from releasing data.
The U.N. mission said in January that 34,452 civilians were killed and more than 36,000 wounded in 2006. These figures were much higher than any issued by Iraqi government officials.
Militants in northern Iraq destroyed the Sarha Bridge, a main route for commercial and military traffic north from the capital and other provinces early on Saturday, police said.
A policeman at the joint operations room in the nearby town of Tuz Khurmato, 150 km (100 miles) north of Baghdad, said half the length of the bridge had been severely damaged. About 20 unexploded cans of explosive material were on the other half.
Motorists were detouring across the dry riverbed below the bridge, said the official.
Several bridges have been targeted in Baghdad, most notably in a truck bombing in April that sent large sections of the famous Sarafiya steel bridge crashing into the Tigris.
At a joint press conference in Arbil, Maliki and Barzani warned Turkey against any military incursions into northern Iraq. Recent troop movements on Turkey's south-eastern border have prompted speculation about possible military action.
"If there are problems then we shouldn't resort to threats, force and weapons because this worsens the problems," Maliki said. "We don't want to harm neighbouring countries, but we also don't want neighbouring countries to interfere with military raids."
Pressure within Turkey for an incursion is growing after a suicide bombing in the capital last week killed six people and wounded scores more. Authorities blamed the attack on the PKK, the Kurdish separatist group that has bases in the mountains of Kurdistan.