Palestinian militants released on Friday the first video of BBC reporter Alan Johnston since he was kidnapped 80 days ago, in which the journalist said he was in good health and being well treated.

"First of all, my captors have treated me very well. They've fed me well, there's been no violence towards me at all and I'm in good health," said a pale Johnston, wearing a red sweatshirt and seated in front of a black backdrop.
There was no indication as to when the relatively sophisticated Internet video was made, but Johnston at one point referred to "here in Gaza" and its release sparked a new flurry of international calls for his freedom.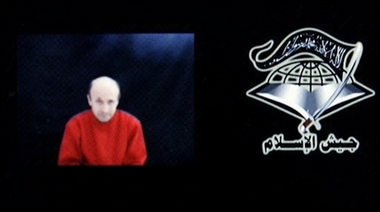 A picture grab from a video released by the Palestinian Army of Islam group downloaded from the website us.archive.org shows kidnapped British journalist Alan Jonston. Palestinian militants released the first video of Johnston since he was kidnapped 80 days ago, in which the journalist said he was in good health and being well treated.[AFP]

Posted in the name of the Army of Islam, the shadowy group claiming to hold Johnston, the recording reiterated demands for the release of Islamic militants -- in particular Palestinian-born cleric Abu Qatada who is detained in Britain.

The prize-winning British journalist, who marked his 45th birthday in captivity, spoke of Palestinian suffering as well as the situations in Afghanistan and Iraq, but a message to his family was cut.

"In three years here in the Palestinian territories, I witnessed the huge suffering of the Palestinian people and my message is that this suffering is continuing and it is unacceptable," said Johnston.

He was the only Western journalist based permanently in Gaza City when he was abducted at gunpoint on March 12, and is by far the longest-held Westerner in the increasingly dangerous and impoverished territory.

APA copy of his British passport was also shown in the tape.

Speaking from South Africa, Prime Minister Tony Blair said Britain was doing everything in its power to secure Johnston's freedom.

"We are doing everything possible that we can to secure his release... I hope we can secure his release for him and his family," he said.

The British government condemned the publication of the "distressing" video and renewed a call for his release. Johnston's family welcomed the first pictures of the captive journalist, but admitted they were difficult to watch.

"We are very pleased to see Alan and to hear him say that he is not being ill-treated, although it is clearly distressing for us to see him in these circumstances," said his parents Graham and Margaret, and sister Katriona.

"I hope this maybe is the endgame. We hope and pray it is," his father told Sky News, describing their ordeal as a "living nightmare."

Palestinian prime minister Ismail Haniya, whose radical Hamas movement said it cut all ties with the Army of Islam after it claimed Johnston's kidnapping, also joined the growing calls for his immediate release.

The journalist, whose plight has sparked solidarity rallies and messages of support from all over the world, spoke not only about the territories, but also about Iraq and Afghanistan, countries where Britain maintains troops.

"People are killed on a daily basis. Economic suffering is terrible, especially here in Gaza where there... (is) absolute despair after 40 years of Israeli occupation, which is being supported by the West," said Johnston.

"We British are completely to blame, along with the Americans, for the situation in Iraq, and the British are the main force in Afghanistan, causing all the trouble to ordinary simple Afghans, who simply want to live.

"In history, the British worked to bring about the State of Israel, which is the cause of all the suffering of the Palestinian people.

"We call on Britain to free our prisoners, especially the honourable Palestinian Sheikh Abu Qatada. We do not forget either our detainees in other infidel countries, for whose release we call," said another voice in Arabic.

Abu Qatada, once described by a Spanish judge as Al-Qaeda's "spiritual head" in Europe, was arrested in Britain in August 2005 as part of a crackdown on Islamist extremism after 56 people were killed in London suicide bombings.

An online petition calling for Johnston's release has been signed by more than 130,000 people.