Cairo - An American member of al-Qaida warned President Bush on Tuesday to end US involvement in all Muslim lands or face an attack worse than the Sept. 11 suicide assault, according to a new videotape.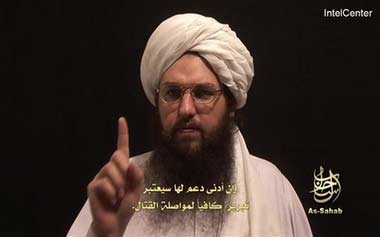 This video frame grab image taken from an al-Qaida propaganda video released Tuesday May 29, 2007 and provided by the IntelCenter, shows Adam Gadahn, also known as Azzam al-Amriki, as he delivers a statement in English with Arabic subtitles, laying out al-Qaida's justifications for conducting future attacks against the United States. [AP]


Wearing a white robe and a turban, Adam Yehiye Gadahn, who also goes by the name Azzam al-Amriki, said al-Qaida would not negotiate on its demands.
"Your failure to heed our demands ... means that you and your people will ... experience things which will make you forget all about the horrors of September 11th, Afghanistan and Iraq and Virginia Tech," he said in the seven-minute video.
Gadahn, who has been charged in a US treason indictment with aiding al-Qaida, spoke in English and the video carried Arabic subtitles. The video appeared on a Web site often used by Islamic militants and carried the logo of al-Qaida's media wing, as-Sahab.
Gadahn, who appeared in an al-Qaida video last September in which he called on Americans to convert to Islam, demanded that Bush remove all US military and spies from Islamic countries, free all Muslims from US prisons and end support for Israel. He said a withdrawal of US troops from Iraq alone would not satisify al-Qaida.
Ben Venzke at IntelCenter, a US government contractor that monitors al-Qaida messages, said the group likely did not believe any of its demands would be met.
"It essentially allows al-Qaida to say that it has provided fair warning and is thus no longer responsible for the outcome," Venzke said in a statement.
Gadahn, a California native, is the first American to be charged with treason in more than 50 years and could face the death penalty if convicted. He also was indicted on a charge of providing material support to terrorists.