KHARTOUM, Sudan - The Sudanese government condemned a new set of US economic sanctions aimed at pressuring it to halt the bloodshed in Darfur, describing them Tuesday as "unfair and untimely" and calling on the rest of the world to ignore them.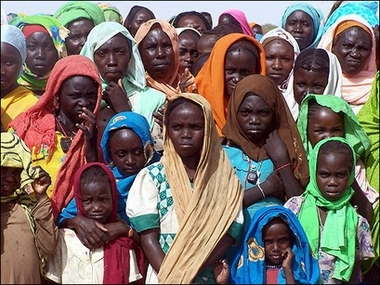 Displaced Darfuris in the town of Gereida in southern Darfur, May 2006. [AFP] 


President Bush announced the United States was enforcing sanctions that bar 31 Sudanese companies owned or controlled by Sudan's government from the US banking system. The sanctions also prevent three Sudanese individuals from doing business with US companies or banks.
"We believe this decision is unfair and untimely," Sudan's Foreign Ministry spokesman, Ali Sadiq, told The Associated Press.
The European Union said it was prepared to consider tougher measures to push Sudan to finally allow a large UN peacekeeping mission into Darfur. "In principle, we are open to consider that," Javier Solana told the AP.
Sadiq defending Sudan, saying it accepted a first batch of 3,000 UN peacekeepers in April to reinforce the overwhelmed African Union force already deployed in Darfur, where more than 200,000 people have died and 2.5 million have fled their homes in four years of fighting between Sudanese forces and rebels.
"These American measures come at a time when Sudan is actively discussing peace in Darfur and working on the hybrid force," of UN and African Union peacekeepers, Sadiq said. "We invite the international community to ignore and condemn these sanctions."
The US mission to the United Nations has been drafting a resolution for broader UN sanctions against Sudan that is expected to face resistance in the Security Council.
UN Secretary-General Ban Ki-Moon said he needs more time to promote negotiations and persuade the Sudanese government to accept more peacekeepers.
Asked whether the US sanctions would complicate his job of getting Sudan to agree to a larger UN-African Union peacekeeping force, Ban said: "We will have to see."
The UN agreed last week with the African Union on the final outline of the hybrid force that would more than triple the number of peacekeepers in Darfur with a mission of at least 23,000 soldiers and police. The peacekeepers would be allowed to launch pre-emptive attacks to stop violence.
South Africa's UN ambassador questioned the timing of the US sanctions in the midst of those negotiations.