WASHINGTON - Robert Zoellick, a nimble negotiator who has crisscrossed the globe as President Bush's trade chief and as the country's No. 2 diplomat, is the White House's choice to be the next World Bank president.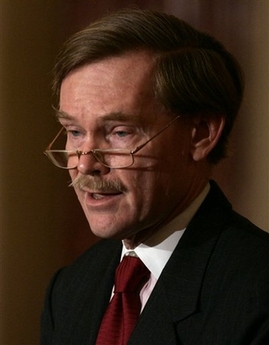 Then-Deputy Secretary of State Robert Zoellick announces his resignation at the State Department in Washington, in this June 19, 2006 file photo. [AP]


Bush will announce the decision on Wednesday, according to a senior administration official.
He would succeed Paul Wolfowitz, who is stepping down June 30 after findings by a special bank panel that he broke bank rules when he arranged a hefty compensation package in 2005 for his girlfriend, Shaha Riza, a bank employee.
The controversy led to calls from Europeans, the bank's staff, aid groups, Democratic politicians and others for Wolfowitz to resign from the poverty-fighting institution.
A seasoned veteran of politics both inside the Beltway and on the international stage, Zoellick, 53, has a knack for mastering intricate subject matter and translating it into policies. He is known for pulling facts and figures off the top of his head. He also has a reputation for being a demanding boss.
Bush's selection of Zoellick must be approved by the World Bank's 24-member board.
The White House expects Zoellick to gain the board's acceptance. The senior official, who spoke on condition of anonymity in advance of Bush's announcement, said so far other nations have had a positive reaction.
Zoellick announced last June that he was leaving his post as deputy secretary of state to join a Wall Street firm and work to develop investment markets around the world.
At the time, Secretary of State Condoleezza Rice said Zoellick had served as her "alter ego" in the department. He was widely believed to be have been interested in getting a promotion and becoming Treasury Secretary. But that job went to Goldman Sachs chief Henry Paulson.
If ultimately approved as World Bank chief, Zoellick will need to regain trust, rebuild credibility and mend frayed relations inside the institution as well as with its member countries around the world.
All of those things are critical for the bank's new leader, who will have to persuade countries to contribute close to $30 billion over the next few years to fund a centerpiece bank program that provides interest-free loans to the poorest countries.
"The test of Zoellick is whether he manages to turn around the bank, which has been in huge disarray," said Elizabeth Stuart, senior policy adviser for Oxfam International, a group involve in helping the world's poor.
Zoellick has built strong contacts around the globe over the years.
He is now an executive at Wall Street giant Goldman Sachs. As Bush's deputy secretary of state he focused on a range of diplomatic duties from the Sudan peace talks to strategic discussions with China.
Before that, as US Trade Representative, Zoellick played a key role in negotiations to bring China into the World Trade Organization. He forged free trade deals between the United States and other countries, including Singapore, Chile, Australia and Morocco. And, he had helped to launch global trade talks in Doha, Qatar.
Some groups involved in promoting global health worry about Zoellick's free-market bent and his past support for trade agreements that critics viewed as favoring large pharmaceutical companies.
"It's impossible to imagine the same Zoellick who carried water" for the large pharmaceutical companies "being the kind of advocate African ministers of health need in order to expand their investments in salaries for doctors and nurses," said Asia Russell, director of international policy for Health GAP, which stands for (Global Access Project) .
Peru, however, welcomed the selection.
"My impression is that it's a good choice President Bush is making," Peru's Foreign Trade Minister Mercedes Araoz told The Associated Press. "He was a driving force of the US trade agenda in seeking association with developing countries, among them, Peru."
Under Bush's father's administration, Zoellick worked closely with then-Secretary of State James Baker on policies pertaining to the end of the Cold War. He also had worked on negotiations on German unification.

| | | |
| --- | --- | --- |
| 1 | 2 | |