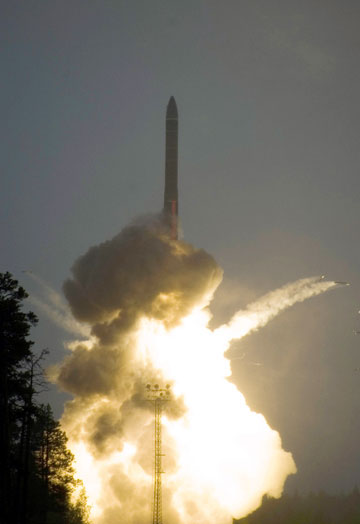 Russia's new intercontinental ballistic missile takes off from Plesetsk launching pad, May 29, 2007. The missile can break through any missile shield, First Deputy Prime Minister Sergei Ivanov said on Tuesday, Itar-Tass news agency reported. [Reuters]
MOSCOW - Russia tested new missiles Tuesday that a Kremlin official boasted could penetrate any defense system, and President Vladimir Putin warned that U.S. plans for an anti-missile shield in Europe would turn the region into a "powder keg."
First Deputy Prime Minister Sergei Ivanov said Russia tested an intercontinental ballistic missile capable of carrying multiple independent warheads, and it also successfully conducted a "preliminary" test of a tactical cruise missile that he said could fly farther than existing, similar weapons.
"As of today, Russia has new tactical and strategic complexes that are capable of overcoming any existing or future missile defense systems," Ivanov said, according to the ITAR-Tass news agency. "So in terms of defense and security, Russians can look calmly to the country's future."
Ivanov is a former defense minister seen as a potential Kremlin favorite to succeed Putin next year. Both he and Putin have said repeatedly that Russia would continue to improve its nuclear arsenals and respond to U.S. plans to deploy a missile defense system in Poland and the Czech Republic - NATO nations that were in Moscow's front yard during the Cold War as Warsaw Pact members.
Russia has bristled at the plans, dismissing U.S. assertions that the system would be aimed at blocking possible attacks by Iran and saying it would destroy the strategic balance of forces in Europe.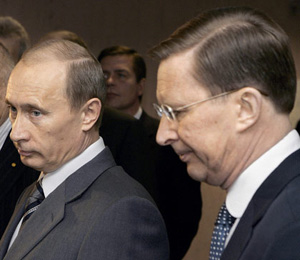 Russia's President Vladimir Putin (L) and First Vice-Prime Minister Sergei Ivanov tour Russian research centre, the Kurchatov Institute, in Moscow April 18, 2007. [Reuters]
"We consider it harmful and dangerous to turn Europe into a powder keg and to fill it with new kinds of weapons," Putin said at a news conference with visiting Portuguese Prime Minister Jose Socrates.
Russian arms control expert Alexander Pikayev said the new ICBMs appeared to be part of Russia's promised response to the missile defense plans and, more broadly, an effort to "strengthen the strategic nuclear triad - land-based, sea-based and air-based delivery systems for nuclear weapons - which suffered significant downsizing" amid financial troubles after the 1991 Soviet collapse.
The ICBM, called the RS-24, was fired from a mobile launcher at the Plesetsk launch site in northwestern Russia. Its test warhead landed on target some 3,400 miles away on the Far Eastern Kamchatka Peninsula, the Strategic Missile Forces said in a statement.
The new missile is seen as eventually replacing the aging RS-18s and RS-20s that are the backbone of the country's missile forces, the statement said. Those missiles are known in the West as the SS-19 Stiletto and the SS-18 Satan.
The RS-24 "strengthens the capability of the attack groups of the Strategic Missile Forces by surmounting anti-missile defense systems, at the same time strengthening the potential for nuclear deterrence," the statement said.