WASHINGTON - President Bush ordered new US economic sanctions Tuesday to pressure Sudan's government to halt the bloodshed in Darfur that the administration has condemned as genocide.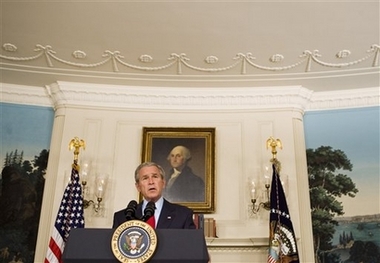 President Bush makes remarks on Darfur, Tuesday, May 29, 2007, in the Diplomatic Reception Room of the White House in Washington. [AP]
"I promise this to the people of Darfur: the United States will not avert our eyes from a crisis that challenges the conscience of the world," the president said.
The sanctions target government-run companies involved in Sudan's oil industry, and three individuals, including a rebel leader suspected of being involved in the violence in Darfur.
"For too long the people of Darfur have suffered at the hands of a government that is complicit in the bombing, murder and rape of innocent civilians," the president said. "My administration has called these actions by their rightful name: genocide.
"The world has a responsibility to put an end to it," Bush said.
Bush had been prepared to impose the sanctions last month, but held off to give U.N. Secretary General Ban Ki-moon more time to find a diplomatic end to the four-year crisis in Darfur where more than 200,000 people have been killed.
Beyond the new US sanctions, Bush directed Secretary of State Condoleezza Rice to draft a proposed U.N. resolution to strengthen international pressure on the Sudanese government of President Omar al-Bashir.
Save Darfur Coalition director David Rubenstein welcomed the sanctions, but said they might be too little, too late.
"President Bush must not give further months to determine whether these outlines measures work - the Darfuri people don't have that much time," he said. "The president must set a short and firm deadline for fundamental changes in Sudanese behavior, and prepare now to implement immediately further measures should Khartoum continue to stonewall."
Bush said he delayed imposing sanctions last month to allow more time for diplomacy, but that al-Bashir has continued to make empty promises of cooperation while obstructing international efforts to end the crisis.
"One day after I spoke, they bombed a meeting of rebel commanders designed to discuss a possible peace deal with the government.," the president said. "In the following weeks he used his army and government-sponsored militias to attack rebels and civilians in south Darfur. He's taken no steps to disarm these militias in the year since the Darfur peace agreement was signed. Senior officials continue to oppose the deployment of the U.N. peacekeeping force.
"The result is that the dire security situation on the ground in Darfur has not changed," Bush said.
The conflict erupted in February 2003 when members of Darfur's ethnic African tribes rebelled against what they considered decades of neglect and discrimination by the Arab-dominated Khartoum government. Sudanese leaders are accused of retaliating by unleashing the janjaweed militia to put down the rebels using a campaign of murder, rape, mutilation and plunder - a charge they deny. The fighting in Darfur has displaced 2.5 million people.
Al-Bashir agreed in November to a three-phase U.N. plan to strengthen the overstretched, 7,000-strong African Union force in Darfur.
After five months of stalling, the Sudanese president gave the go-ahead in April for the second phase - a "heavy support package" with 3,000 U.N. troops, police and civilian personnel along with six attack helicopters and other equipment.
Over the weekend, however, al-Bashir reiterated his opposition to the deployment of a 22,000-strong joint U.N.-AU force, saying he would only allow a larger African force with technical and logistical support from the United Nations.
The new sanctions target 31 companies to be barred from the US banking system. Thirty of the companies are controlled by the government of Sudan; the other one is suspected of shipping arms to Darfur, the officials said.
Nearly 10 years ago, the United States cut off about 130 Sudanese companies from the US system over a different dispute, forcing them to find ways to do business outside the sanctions framework.
The US also is targeting three individuals, cutting them off from the US financial system to prevent them, too, from doing business with US companies or individuals.
The Treasury Department said that Ahmad Muhammed Harun, Sudan's state minister for humanitarian affairs, has been accused of war crimes in Darfur by the International Criminal Court in The Hague. Sudan's head of military intelligence and security, Awad Ibn Auf, was also designated, along with Khalil Ibrahim, leader of the Justice and Equality Movement, a rebel group that has refused to sign the Darfur Peace Agreement.
The U.N. resolution Bush is seeking would apply new international sanctions against the Sudanese government in Khartoum. It also would seek to impose an expanded embargo on arms sales to Sudan, prohibit Sudan's government from conducting offensive military flights over Darfur and strengthen the US ability to monitor and report any violations.
Meanwhile, Liu Guijin, China's new troubleshooter on Africa, defended Chinese investment in Sudan Tuesday as a better way to stop the bloodshed rather than the sanctions advocated by the US and other Western governments.
Fresh from his first trip to Sudan since his appointment this month as a special government envoy, Liu said he saw no desperation in refugee camps in Darfur last week and found that international and Sudanese groups were working together to solve humanitarian problems there.
"I didn't see a desperate scenario of people dying of hunger," Liu said at a media briefing. Rather, he said, people in Darfur thanked him for the Chinese government's help in building dams and providing water supply equipment.