TEHRAN, Iran - Iran said Saturday it has uncovered spy rings organized by the United States and its Western allies, claiming on state-run television that the espionage networks were made up of "infiltrating elements from the Iraqi occupiers."
The Intelligence Ministry has "succeeded in identifying and striking blows at several spy networks comprised of infiltrating elements from the Iraqi occupiers in western, southwestern and central Iran," said the statement, using shorthand for United States and its allies.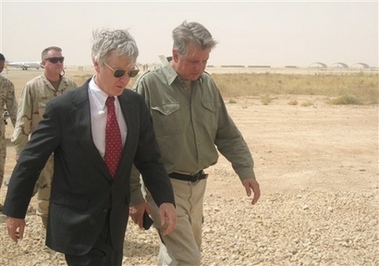 US ambassador to Iraq Ryan Crocker, left, walks with an aide at al-Asad airbase near the city of Hit, Anbar province some 140 kilometers (85 miles) west of Baghdad, Iraq, on Saturday, May 26, 2007. Crocker will lead talks with Iran on Monday aimed at restoring security to Iraq. [AP]


The broadcast did not elaborate, saying further details would be published within days.
Meanwhile, the state IRNA news agency said the uncovered networks "enjoyed guidance from intelligence services of the occupying powers in Iraq" and also that "Iraqi groups" were "involved in the case."
The White House said Saturday that it does not confirm or deny allegations about intelligence matters.
"We urge Iran to play a positive role in Iraq ... and stop blaming everyone else for problems they are only bringing on themselves," White House deputy press secretary Dana Perino said.
Since the US-led invasion of Iraq, Iran has often accused the United States and Britain of trying to undermine the security of the Islamic Republic.
The allegations Saturday come two days before American and Iranian ambassadors are to meet in Baghdad to discuss ways to ease the crisis in Iraq. It remains unclear how the announcement will affect those talks, although it clearly reflects a toughening of Iran's stand.
The talks Monday in Baghdad will offer a rare one-on-one forum between the two countries, which broke off formal relations after Iran's 1979 Islamic Revolution. The agenda is expected to be limited to Iraqi affairs, without touching on the nuclear impasse between Iran and the West.
The talks will also take place against the backdrop of five Iranians held by US troops for more than three months after their January capture in the northern Iraqi city of Irbil.
US authorities said the five were members of Iran's elite Quds Force, accused of arming and training Iraqi militants. Tehran has claimed they were part of a government liaison office and has demanded their release.
Saturday's Iranian statement did not refer to either US or Britain by name, but followed reports that President Bush has authorized the covert CIA action to destabilize the Iranian government.
"This is the first we've heard of any such claims and we would obviously want to know more about what lies behind the claims," said a British Foreign Office spokesman, speaking on condition of anonymity in line with department policy.
Iranian officials have repeatedly raised concerns that Washington could incite members of Iran's many ethnic and religious minorities as pressure points against the Shiite-led government in Tehran.
State television said this month that Iran had captured 10 men crossing the country's eastern border, with $500,000 in cash, maps of sensitive Iranian locations and modern spying equipment. No other details were available.
Iran has arrested a number of Iranian-Americans in recent months, accusing them of seeking to topple the ruling establishment.
Haleh Esfandiari, director of the Middle East Program at the Washington-based Woodrow Wilson Center for Scholars, has been held at Tehran's notorious Evin Prison since early May and charged with seeking to topple the government in Tehran. She traveled to Iran in December to visit her 93-year-old mother but was stopped when she headed to the airport to leave on Dec. 30 by knife-wielding men in masks.
She was interrogated extensively and, earlier this month, imprisoned. The Iranian government this week announced she was being charged with setting up a network to overthrow the Islamic establishment.
Other Iranian-Americans have also been prohibited from leaving Iran in recent months, including Parnaz Azima, a journalist for the US-funded Radio Farda; Ali Shakeri, a founding board member at the University of California, Irvine's Center for Citizen Peacebuilding; and Kian Tajbakhsh, consultant working for George Soros' Open Society Institute.
Another American, former FBI agent Robert Levinson, disappeared in March after going to Iran's resort island of Kish.
US-Iranian tensions have also increased after Pentagon moved two aircraft carriers and seven other ships into the Persian Gulf.