LONDON - Rising numbers of women are asking the National Health Service to provide cosmetic surgery on their genitals, doctors said on Friday.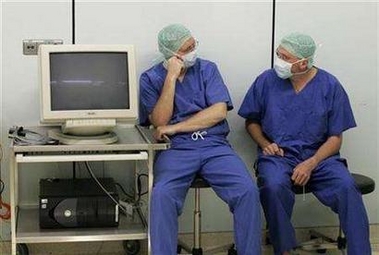 Surgeons discuss details of a surgery at a hospital in Berlin in this May 12, 2007 file photo. [Reuters]


Writing in the British Medical Journal, they said the number of "labial reductions" carried out in NHS hospitals had doubled to 800 a year over five years.

"More and more women are said to be troubled by the shape, size or proportions of their vulvas", wrote Lih Mei Liao and Sarah Creighton from London's UCL Elizabeth Garrett Anderson Institute for Women's Health.

Articles in women's magazines about "designer vaginas", the rising popularity of cosmetic surgery and Internet promotion by private health clinics were all fuelling demand.

The authors said women seeking surgery were being influenced by idealised images of genitalia shown in pornography and on private genitoplasty Web sites.

Liao said research was needed into whether surgery was bringing long-term benefits to patients, before the NHS started routinely offering the cosmetic procedure.