UNITED NATIONS - The United Nations and the African Union agreed Thursday on a highly mobile, robust joint force to help protect civilians and restore security to the Darfur region - but Sudan still holds the key to its deployment.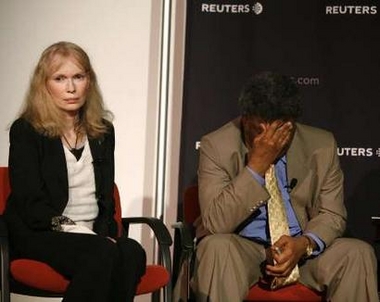 Actress and UNICEF Goodwill ambassador Mia Farrow and Abdalmahmood Abdalhaleem, Sudanese Ambassador to the United Nations,attend a Reuters Newsmaker event at the New York Historical Society, May 24, 2007. [Reuters]


The 39-page report proposes tripling the number of peacekeepers now in Darfur with an AU-UN "hybrid" force of at least 23,000 soldiers and police allowed to launch pre-emptive attacks to stop violence.

US Ambassador Zalmay Khalilzad, the current Security Council president, said he hopes the council will adopt a presidential statement on Friday urging the Sudanese government to cooperate fully in "the expeditious start-up and implementation of the UN-AU hybrid operation."

"Now the ball will be in Sudan's court," Khalilzad said.

Sudan's UN Ambassador, Abdelmahmood Abdelhaleem, told reporters Tuesday that his government would study the report when it arrives "and convey our remarks on it as soon as possible. It will not take months."

The four-year conflict between ethnic African rebels and pro-government janjaweed militia in the vast western Darfur region has killed more than 200,000 people and displaced 2.5 million Darfurians. A beleaguered, 7,000-strong African Union force has been unable to stop the fighting, and Sudan's President Omar Al-Bashir has stalled implementation of the hybrid force - the last part of a three-phase UN plan to back up the African troops.

Al-Bashir has given a green light to the first two phases but he has refused to sign off on the hybrid UN-AU force, saying he would only allow a larger African force with technical and logistical support from the United Nations.

The hybrid force proposed Thursday by the AU and UN envisions highly mobile troops "capable and ready to deter violence, including in a pre-emptive manner," robustly equipped, and backed by aerial surveillance and aircraft to move soldiers quickly to address threats to security.

Mobile infantry battalions would provide security at camps for those who have fled their homes and patrol roads and humanitarian supply routes, and around towns and villages, during the day and at night to restore confidence.

Military observers would track the activities of armed militias, monitor compliance with the Darfur Peace Agreement signed in May 2006 by the government and one rebel group, and monitor the volatile border between Sudan, Chad and Central African Republic where the conflict has spilled over.

| | | |
| --- | --- | --- |
| 1 | 2 | |