TEHRAN, Iran - President Mahmoud Ahmadinejad on Thursday vowed to push ahead with Iran's nuclear program, saying the West is trying to stop it to prevent Iran from emerging as a world power.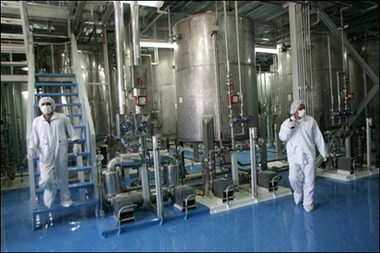 Iranian technicians at the Isfahan Uranium Conversion Facilities, 2005. UN inspectors made a last-minute visit in Iran to a uranium enrichment plant ahead of a report that could lead to new sanctions against Tehran over its atomic ambitions, diplomats told AFP. [AFP]
The hard-line president's comments came a day after the U.N. nuclear watchdog agency issued a strongly critical report that could trigger new sanctions against Iran. The report said the country has expanded its uranium enrichment program in defiance of U.N. demands for a suspension, and it warned that the watchdog's knowledge of Iran's activities was shrinking.
In a speech to a gathering of Iran's elite Revolutionary Guards, Ahmadinejad ruled out any temporary suspension, saying, "If we stop for a while, they (Iran's enemies) will achieve their goals. The enemy wants Iran to surrender so it won't have any say in the world."
"The aim of the enemies in thwarting Iran's exploitation of peaceful nuclear technology, is not based on any technical reasons. They want to hit at the source of the (Iranian) regime's progress," he said, according to state-run television.
"If Iran's right to nuclear technology is confirmed, all nations of the world will gather under Iran's political banner. Enemies of Islamic Iran know this, and for this reason they have mobilized," Ahmadinejad said.
The leader said Iran doesn't fear its foes' attempts to thwart its nuclear ambitions.
"The enemy is applying its ultimate capabilities against Islamic Iran, which will be useless," Ahmadinejad said. "With the support of the Iranian nation, we do not fear the enemy's hyperbole and psychological warfare. We are nearing our final goals."
The comments appeared to be a reference to U.S. military exercises that began this week in the Gulf. The U.S. has brought two aircraft carrier groups and other ships off Iran's shores in a show of strength directed toward Tehran.
Iran insists its nuclear program is peaceful, aimed only at developing energy, and it has touted the program as a sign of its technological prowess. The United States and its allies contend it is secretly aiming to develop nuclear weapons.
The U.N. Security Council has demanded Iran suspend uranium enrichment because the process can produce not only fuel for a reactor but also the material needed for a nuclear warhead.
The council imposed sanctions on Iran on Dec. 23 for its rejection of the demand then modestly increased them in March.
Experts from the United States and five other powers leading efforts to rein in Iran's nuclear program plan to meet within the week to consider the next steps after Wednesday's report by Mohamed ElBaradei, head of the International Atomic Energy Agency.
The talks will focus on how to bring Iran back to negotiations and what the Security Council could do if Tehran doesn't budge, China's deputy U.N. ambassador, Liu Zhenmin, said.
The report detailed the expanstion of Iran's enrichment program and for the first time noted that the agency's knowledge of Iran's nuclear activities is waning. It pointed to Tehran's decision earlier this year to reject inspections of a heavy water reactor under construction at Arak and facilities linked to it.
Iran's top nuclear inspector Ali Larijani on Thursday defended the limits on inspections. He said Iran had entered "voluntarily" into the agreement allowing the inspections at Arak, and so "it has right to revise that decision" to bar the inspections.
Once completed, sometime in the next decade, the Arak complex will produce plutonium, which, like enriched uranium, can be used to make nuclear weapons.
Earlier, Iran insisted it was giving the IAEA all cooperation required under the Nuclear Non-Proliferation Treaty.
Larijani and Javier Solana, the EU's top foreign policy official, are to meet on May 31 to explore if there is common ground to resume negotiations over Iran's nuclear program.
Former Iranian president Akbar Hashemi Rafsanjani — a powerful figure among the clerics who lead Iran — warned against missteps in the nuclear standoff, another apparent reference to the U.S. military buildup in the Gulf.
"We should follow the case with awareness. I expect the other party not to lose its wisdom and commit a blatant mistake in our region," he said on state-run radio.