MOSCOW - A methane explosion tore through a coal mine in southern Siberia, killing 35 people and injuring seven others, emergency officials said Thursday.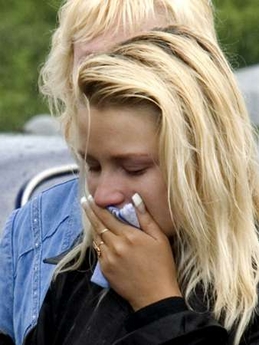 Relatives grieve outside the Yubileynaya mine office, 45 km (28 miles) outside Novokuznetsk, May 24, 2007. [Reuters]
Soon after the blast, 179 miners were safely brought to the surface, including seven with injuries, said Natalia Lukash, a spokeswoman for the Emergency Situations Ministry.
Emergency workers were looking for three miners still missing in the mine in Novokuznetsk, some 1,850 miles east of Moscow, she said.
Irina Andrianova, another ministry spokeswoman, said 217 people had been working in the Yubileinaya mine at the time of the blast.
An explosion at another mine in the region in March killed 110 people. That was the deadliest accident in more than 60 years in Russia's mines, many of which fell into disrepair when government subsidies dried up after the 1991 collapse of the Soviet Union.
Both accidents occurred at mines operated by Yuzhkuzbassugol, a subsidiary of coal and steel producer Evraz SA, and Russian industrial safety officials said Thursday that the company's license may be revoked.