BAGHDAD - Thousands of US and Iraqi troops fanned out across the fields of southern Iraq in scorching temperatures Thursday as the military said it remained determined to find two missing US soldiers after the body of a third was pulled from a river.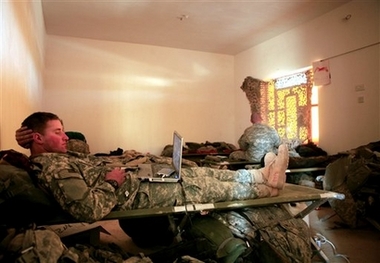 Army Pfc. Joseph Anzack, 19, from Los Angeles, Calif. of Delta Company, 4th Battalion, 31st Infantry Regiment, left, relaxes in the company barracks near Youssifiyah, 12 miles (20 kilometers) south of Baghdad, Iraq in this Friday, Feb. 2, 2007 file photo. Pfc. Anzack has been identified as by the Pentagon as among those whose whereabouts are unknown after a May 12, 2007 ambush in Iraq. The attack near Mahmoudiya, in a Sunni stronghold 20 miles south of Baghdad, left four US soldiers and an Iraqi translator dead, and three other soldiers missing. [AP]
Also Thursday, a car bomb targeting a funeral procession in the turbulent city of Fallujah killed at least 26 people, police and medical officials said.
The military confirmed that the body found Wednesday in the Euphrates River south of Baghdad was that of Pfc. Joseph Anzack Jr., of Torrance, Calif., who had been missing since militants ambushed his unit nearly two weeks ago.
A commanding officer identified the remains recovered from the river, but DNA tests were still pending, military officials told Anzack's family.
"They told us, 'We're sorry to inform you the body we found has been identified as Joe,'" said the soldier's aunt, Debbie Anzack. "I'm in disbelief."
Anzack, 20, vanished along with the two other soldiers after their combat team was ambushed May 12 about 20 miles outside Baghdad. Five others, including an Iraqi, were killed in the ambush, subsequently claimed by al-Qaida.
The attack triggered a massive search operation in the area south of Baghdad known as the triangle of death for the insurgent activity there.
On Thursday, soldiers proceeded with their mission, despite Anzack's death. One unit searched chicken coops and trudged through mud, canals and tall reeds in the brutal heat.
"The search continues," said Lt. Col. Christopher Garver, a US military spokesman.
Members of Anzack's platoon choked back tears at news of his death and said they would not stop looking for the other two missing soldiers.
"We can't leave them behind. I just hope that they have enough faith to keep them going. What they're going through right now, I can't imagine," said Pfc. Sammy Rhodes, 25, of Albuquerque, N.M.
Spc. Daniel Seitz, 22, of Pensacola, Fla., said he was trying to stay strong and push ahead with the search.
"It just angers me that it's just another friend I've got to lose and deal with, because I've already lost 13 friends since I've been here and I don't know if I can take any more of this," he said.

| | | |
| --- | --- | --- |
| 1 | 2 | |