ANKARA, Turkey - Turkish officials directed blame for a suicide attack at Kurdish rebels Wednesday, saying the bomber who killed six people and wounded dozens in the capital used methods similar to those of the separatist group.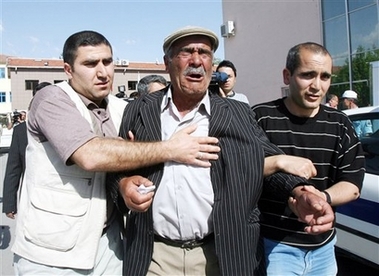 Two men help a crying father as people carry the coffin of his son following an autopsy, a day after a powerful explosion killed six people and injured more than 100 during a busy rush hour in Turkish capital of Ankara, Wednesday, May 23, 2007. [AP]


Prime Minister Recep Tayyip Erdogan suggested that the Kurdistan Workers Party, or PKK, was a key suspect in Tuesday's blast, saying of the group that: "We were worried that the terrorist organization could carry out such attacks in major cities."

The PKK released no statement either confirming or denying its involvement.

The bomb exploded at a bus stop in front of a busy shopping mall, damaging shops and hurling glass over the Ulus neighborhood, one of the oldest parts of Ankara.

Ankara Gov. Kemal Onal said the bomber had been identified as Guven Akkus, a 28-year-old from the predominantly Kurdish southeast who had spent time in prison for hanging illegal posters and resisting police.

Akkus' body was blown to pieces in the blast, and the nature of his injuries made clear he was not a victim, Onal said.

"The type of the explosives and equipment used is similar to those used by the separatist group," he said.

Private NTV television, quoting police officials, said the bomb was made of plastic explosives. The Turkish military says the rebel group, which has been implicated in past suicide attacks, is smuggling hundreds of pounds of plastic explosives into the country from Iraq.

Onal did not say what kind of posters Akkus was convicted of hanging, or whether they were or if Akkus was affiliated with the separatist Kurdish rebel group.

The government-run Anatolia news agency reported that, when Akkus was arrested in May 1996 for resisting police, he was affiliated to a little-known militant leftist group called the Turkish Union of Revolutionary Communists. The PKK, which has a Marxist background, has previously developed links with other leftist groups.

Police in Istanbul questioned Akkus' brother and sister for two hours, the private Dogan news agency reported.

Anatolia, citing unidentified police officials, said authorities were investigating possible links between Akkus and the PKK because leftist militants did not traditionally carry out attacks against civilians. The DHKP-C, a banned Marxist group, has carried out suicide bombings, but they were aimed at high-level officials, the police told Anatolia.

The agency said police were investigating the possibility that the bomber may have panicked after seeing a police car and detonated the bomb before reaching the intended target. It did not say what the target may have been.

Earlier this year, Kurdish militants warned that tourists could be their next targets. The guerrillas allege Turkey is using lucrative tourism revenues to finance military operations against the separatists.

The attack came at the start of the tourist season, and the injured included eight Pakistanis who were in Ankara for a weeklong international defense industry fair, several miles from the mall.

The governor said 91 people were injured.

Foreign Minister Abdullah Gul convened an emergency meeting to discuss new security measures, and police launched a nationwide security sweep.

Officials said they detained a man and a woman with 11 pounds of explosives in the southern city of Adana. Based on the initial interrogations, Adana Gov. Ilhan Atis said the woman could have been planning to stage a suicide attack. The suspects' affiliation was not immediately clear.

In August, a hard-line Kurdish group claimed responsibility for a bus bombing in the Mediterranean resort of Marmaris that injured 20 people, including 10 Britons.

But Islamic militants have also carried out bombings in Turkey. In 2003, al-Qaida-linked suicide truck bombers attacked two synagogues, the British Consulate and a British bank in Istanbul, killing 58 people.

There is growing impatience in Turkey on how to deal with Kurdish rebels, and the government has not ruled out military operations against their bases in northern Iraq. The United States opposes that move, fearing it would complicate efforts to restore stability in Iraq.