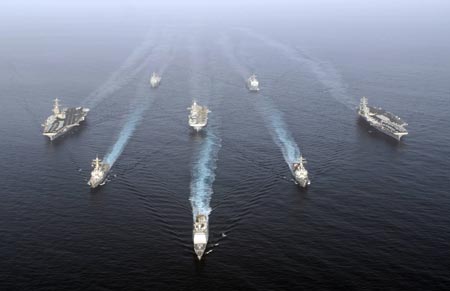 U.S. warships carrying 17,000 personnel enter the Gulf in a show of force off Iran's coast that navy officials said was the largest daytime assembly of ships since the 2003 Iraq war, in this handout photograph taken May 22, 2007.[Reuters]
ABOARD USS JOHN C. STENNIS - The largest daytime assembly of US warships in the Gulf since the 2003 Iraq war prepared on Wednesday to hold drills off Iran's coast in a major US show of force that unnerved oil markets.
US Navy officials said Iran was not notified of plans to sail nine ships, including two aircraft carriers, through the Straits of Hormuz, a narrow channel in international waters off Iran's coast and a major artery for global oil shipments.
The maneuver raises pressure on the Islamic Republic, coinciding with a report by the U.N. atomic watchdog on Iran's nuclear program, which could lead to tougher sanctions.
Oil climbed towards $70 as the US ships sailed into the straits, through which 40 percent of globally traded oil passes.
Rear Admiral Kevin Quinn, who is leading the group, said the ships would conduct exercises as part of a long-planned effort to reassure regional allies of US commitment to Gulf security.
"There's always the threat of any state or non-state actor that might decide to close one of the international straits, and the biggest one is the Straits of Hormuz," he told reporters on board the USS John C. Stennis aircraft carrier.
Tension with the United States over Tehran's nuclear ambitions has raised regional fears of a military confrontation.
Highlighting the dangers of accidental escalation, a Navy official said the USS Stennis had received nine enquiries from nearby countries, two from Oman and seven from Iran, including one from an Iranian vessel that sailed close by.
Iran's defense minister Mostafa Mohammad Najjar said the Islamic Republic would resist any threat by its enemies.
Most US ships pass through the straits at night so as not to attract attention, and rarely move in such large numbers.
Navy officials said the decision to send a second aircraft carrier was made at the last minute, without giving a reason.
The group of ships, carrying about 17,000 personnel and 140 aircraft scheduled to participate in the exercises that will take place over the next few weeks, crossed at roughly 0355 GMT.
SHOW OF FORCE
The maneuver comes less than two weeks after US Vice President Dick Cheney, speaking aboard the Stennis during a tour of the Gulf, said Washington would stand with others to prevent Iran gaining nuclear weapons and "dominating the region."
On a visit to Abu Dhabi a few days later, Iranian President Mahmoud Ahmadinejad threatened "severe" retaliation if the United States attacked his country.
He also urged Gulf countries to "get rid of" foreign forces, blaming them for insecurity in the region.
The United States accuses Iran of trying to produce nuclear weapons, and has sought tougher U.N. sanctions against Iran. Iran says its nuclear ambitions are for energy purposes only.
US and Iranian ambassadors are due to meet on Monday in Baghdad to discuss security in Iraq, where the United States has accused the Islamic Republic of fomenting violence by backing Shi'ite militia there. Iran has denied the accusations.
On the way to the straits, a public announcement called on crew to witness "some of the most powerful ships in the world," whose tight formation against a backdrop of the setting sun created a dramatic image of American naval might.
Last month, the US Fifth Fleet base in Bahrain conducted its biggest crisis response drill and in March, the US navy conducted its biggest war drills in the Gulf since 2003.
Naval officials said the latest training would include air defense exercises and boarding ships posing as suspect vessels.
"If the Straits of Hormuz were to be closed or there were to be some conflict there, the shipping rates would go sky high," Quinn said.