LONDON - British prosecutors demanded Tuesday that Russia extradite an ex-KGB agent to face murder charges over the death of former spy Alexander Litvinenko, plunging chilly ties with Moscow to a new low.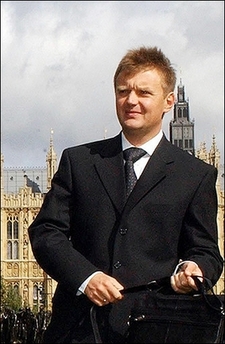 British prosecutors demanded Tuesday that Russia extradite an ex-KGB agent to face murder charges over the death of former spy Alexander Litvinenko, pictured in 2004, plunging chilly ties with Moscow to a new low. [Agencies]


Russian authorities immediately said they would not hand over Andrei Lugovoi despite London's demands for "full cooperation" over the Cold War-style affair.

And the wealthy businessman flatly denied he was guilty, saying it was "a political decision," adding: "I did not kill Litvinenko. I have nothing to do with his death," according to Russian news agencies.

Lugovoi vowed to reveal what he called sensational details about the case.

Britain's Crown Prosecution Service called for his extradition six months after the radiation poisoning of Litvinenko in London last November, described as an "extraordinarily grave crime" by CPS chief Sir Ken Macdonald.

"I have today concluded that the evidence sent to us by the police is sufficient to charge Andrei Lugovoi with the murder of Mr Litvinenko by deliberate poisoning," Macdonald said at a press conference.

A fierce critic of Russian President Vladimir Putin, Litvinenko met Lugovoi in London on November 1 last year, the day he was poisoned with the highly radioactive isotope polonium 210.

The 43-year-old died in agony in a London hospital 22 days later.

Moscow has angrily denied having a hand in the killing, and on Tuesday the Russian foreign ministry said extraditing Lugovoi to Britain would contradict the Russian constitution.

"Concerning the question of extradition: as is known, the handover of Russian citizens to foreign states contradicts the Russian constitution," the ministry said.

But Russia's ambassador Yuri Fedotov was hauled in by the Foreign Office to be told London expects "full cooperation" in bringing Lugovoi to face justice.

Lugovoi told Russian state TV he would shortly reveal information that will be "a sensation for British public opinion and could fundamentally alter how these events are viewed."

He said he too had suffered radiation exposure and "I consider myself a victim."

Lugovoi could only be formally charged once he arrived in Britain and appeared in court, according to a spokeswoman for the CPS, which oversees criminal prosecutions in England and Wales.

Anglo-Russia ties have hit a post-Cold War low with Litvinenko's murder and London-based exile Boris Berezovsky's calls to overthrow Putin. British courts have refused to allow the tycoon to be extradited.

Russia is also at odds with the West over the US missile defence system to be deployed in central Europe and United Nations plans to grant Kosovo independence from its ally Serbia.

Prime Minister Tony Blair's official spokesman said Britain was taking the Lugovoi charges very seriously.

"Obviously we have political and economic connections with Russia," he said.

"However, what that doesn't in any way obviate is the need for the international rule of law to be respected and we will not in any way shy away from trying to ensure that that happens in a case such as this," he insisted.

White House spokesman Tony Snow said the United States was "not taking sides" with either Britain or Russia.

Litvinenko's widow Marina hailed the decision to press charges - and urged Russia, via Fedotov, to extradite him to prove it wasn't responsible for "state terrorism."

Meanwhile, her lawyer said she had sent a letter to the European Court of Human Rights lodging a formal complaint over alleged Russian breaches of European Union law requiring proper investigations into murders.

Litvinenko accused Moscow of being behind his poisoning in a letter released after his death.

The ex-agent, who had been granted political asylum in Britain and formally became a British citizen last year, was administered large doses of polonium 210.

Lugovoi, who now specialises in bodyguard duties and owns a large drinks factory in Russia, flew to London with his business associate Dmitry Kovtun and met Litvinenko on November 1.

Litvinenko drank tea when he met the pair at the Millennium Hotel in central London, where investigators later found traces of polonium and staff tested positive for low level radiation contamination.