SEOUL, South Korea - North and South Korea adopted a military agreement Friday enabling the first train crossing of their heavily armed border in more than half a century, the South's Defense Ministry said.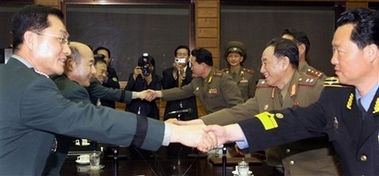 South Korean chief delegate Army Maj. Gen. Jeong Seung-jo, second from left, shakes hands with his North Korean counterpart Kim Young Chol after a military meeting at the North Korean side of the border village of Panmunjom, Friday, May 11, 2007. [AP]
The rail test, planned for Thursday, would be the first time trains have crossed the tightly sealed border since inter-Korean rail links were severed in the middle of the 1950-53 Korean War.
Two tracks have been reconnected as part of a series of reconciliation projects launched since the two sides held the first-ever summit of their leaders in 2000.
The test would be just a single run of trains along the restored tracks on each side of the peninsula, with regular train service between the two sides unlikely to begin anytime soon.
The two Koreas had agreed in principle on security for the rail test earlier this week, but the adoption of a formal agreement came only after more than 30 hours of extended talks that stretched into Friday due to unspecified sticking points.
South Korea hopes the inter-Korean railways could ultimately be linked to Russia's Trans-Siberian railroad, and could allow an overland route connecting the peninsula to Europe - significantly cutting delivery times for freight that now requires sea transport.
Economic officials from both sides agreed last month to conduct the train run, but North Korea's military had the final say on whether it goes forward because such a border crossing requires security arrangements.
The security accord sets out protocols for the train crossings next week, including what areas of the border should open and for how long, as well as pledges from each side to guarantee travelers' safety.
South Korea had hoped to expand the agreement to cover similar future border crossings, but the North refused.
The two sides also agreed in principle to set up a joint fishing area around their disputed western sea border and continue talks on that issue and other measures aimed at preventing accidental clashes in the area, according to a joint statement summarizing the negotiations' outcome.