BAGHDAD - Vice President Dick Cheney met Iraqi leaders in Baghdad on Wednesday and was expected to press for more progress in meeting political benchmarks aimed at ending sectarian violence.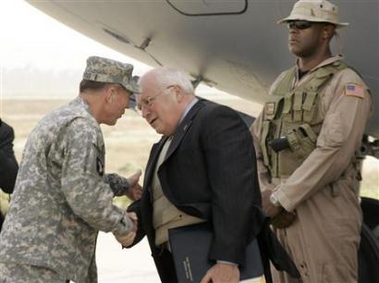 Vice President Dick Cheney is greeted by General David Petraeus, commander of the U.S. forces in Iraq, as he arrives at Baghdad International Airport, May 9, 2007. [Reuters]
Cheney's unannounced visit, part of a Middle East tour, may signal growing US impatience at Shi'ite Prime Minister Nuri al-Maliki's failure to push through power-sharing agreements as American military commanders build up troops to secure Baghdad.
"There is a lot going on. It's an important time. There is a lot to talk about," Cheney said before meeting with General David Petraeus, commander of US troops in Iraq.
In Iraq's relatively peaceful Kurdistan, a suicide truck bomb killed 14 people and wounded 87 in the northern city of Arbil, a Kurdish official said. It was one of the few bombings to hit a region that has been spared the bloodshed engulfing the rest of Iraq since the US-led invasion in 2003.
US President George W. Bush is under mounting pressure from Democrats to show concrete progress in the four-year war.
He is sending 30,000 extra troops to Iraq for a security crackdown seen as a last ditch effort to stave off civil war between majority Shi'ites and once-dominant Sunni Arabs.
With US troops dying daily, American officials have urged the Iraqi parliament to scrap a planned two-month summer recess.
During a visit to Baghdad last month, US Defense Secretary Robert Gates said progress on a package of laws that include a bill dividing up Iraq's oil wealth would be an important factor in Washington's decision to maintain higher troop levels.
Petraeus, who last month said Maliki's cabinet was comprised of leaders with "narrow agendas," is expected to deliver an assessment of the "troop surge" in September.
Cheney arrived in Baghdad on the same day a USA Today/Gallup poll showed six out of 10 Americans support setting a timetable for pulling US troops out, even though a clear majority predict civil war in Iraq if US forces withdraw next year.
Last week, Bush vetoed a war-spending bill because it called for a withdrawal of combat troops starting no later than October 1.
Cheney is in Iraq at a sensitive time.
Leaders from the Sunni Arab minority have threatened to quit Maliki's government because they say Sunni interests are being ignored. Washington says a Sunni role in government is needed to bring Sunnis firmly into the political process and tame the Sunni Arab insurgency.
Ethnic Kurds, staunch US allies, have also threatened to block the oil bill in parliament.
The law is another US benchmark, along with legislation to roll back a ban on former members of Saddam Hussein's party from public office, a plan that has met deep Shi'ite opposition.
The White House has said Cheney's tour in the region would be a follow-up to last week's conference on Iraq in Egypt, in which Washington held a top-level contact with Syria and signaled a willingness to do so with Iran.
RARE KURDISTAN ATTACK
Bomb attacks are extremely rare in Iraq's autonomous oil-producing Kurdish region, unlike the rest of the country.
Kareem Sinjari, minister of internal affairs in Kurdistan, said the blast killed 14 and wounded 87. Abdul Khaleq Talat, chief of Arbil police, said the truck was packed with 800 kg (1,700 lb) of explosives covered with kitchen cleaning products.
Arbil is the capital of Kurdistan. The bomb went off near the Kurdish government's Interior Ministry.
Television images showed Kurdish soldiers and police pulling wounded people from the rubble of a collapsed building. The explosion left a massive crater in the road, damaged vehicles and caused partial damage to buildings.
"I was near the site of the explosion. I saw fire coming out from the blast area. A man was burned to death," a witness said.
A suicide bomber killed more than 60 people at the Kurdistan Democratic Party office in Arbil in May 2005 in an attack that was claimed by a militant Sunni Arab group. That was the last bomb attack in the Kurdish region that residents can recall.