Iran will attend a conference of key powers including the United States this week that will focus on stabilizing Iraq, a meeting Baghdad said might be a turning point for regional cooperation in easing the violence.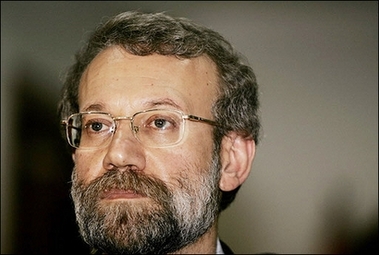 Iran's top national security official Ali Larijani listens to a journalist question during a press conference that followed his meeting with Iraq's Prime Minister Nuri al-Maliki in Baghdad. Iran announced on Sunday that it will attend a key conference on Iraq's security in Egypt alongside arch-enemy the United States this week, ending weeks of uncertainty over its involvement. [AFP]


Iraq's Foreign Minister Hoshiyar Zebari said there was a "high possibility" that arch foes Teheran and Washington would hold bilateral talks at the May 3-4 conference in Egypt's Sharm-El Sheikh.
US Secretary of State Condoleezza Rice said in television interviews that she would not rule out an "encounter" with Iranian Foreign Minister Manouchehr Mottaki at the conference.
However, Rice said any discussions would center only on stabilizing Iraq and not broader US-Iranian relations.
Teheran said it would send a delegation headed by Mottaki "with the aim of helping the Iraqi nation and government".
US officials accuse Shi'ite Iran of training and supplying weapons to Shi'ite militias in Iraq, a charge Teheran denies.
Relations between Iraq and Iran, both predominantly Sh'ite countries, have improved since the fall of Saddam Hussein.
The high-level conference will bring together Iraq's neighbors, including Syria and Turkey, and world powers. The meeting is a follow-up to one in Baghdad in March, where Maliki urged neighboring states to do more to end violence in Iraq.
Zebari, who visited Teheran last week to try to persuade Iran to take part in the conference, said one reason Iran had been reluctant to say whether it would attend was the detention by US forces of five Iranians in Iraq in January.
In Teheran, Iranian Foreign Ministry spokesman Mohammad Ali Hosseini told state television: "We have emphasized that we are ready for any help to strengthen the government and political process in this country (Iraq)."
Bombing toll reaches 68
US forces fired an artillery barrage in southern Baghdad yesterday morning, rocking the capital with loud explosions. The death toll from a suicide car bomb attack in the Shi'ite holy city of Karbala rose to 68 as residents dug through the debris of heavily damaged shops.
The blasts in Baghdad came a day after the US military announced the deaths of nine American troops, including four killed in separate roadside bombings south of Baghdad and five in fighting in Anbar province, a Sunni insurgent stronghold west of the capital.
American troops also detained 72 suspected insurgents and seized nitric acid and other bomb-making materials during raids yesterday targeting Al-Qaida in Iraq in Anbar province, and Salahuddin province, a volatile Sunni area northwest of the capital, the US military said.