LOS ANGELES - Rescuers worked Saturday to save more dead and dying dolphins and sea lions that have washed up on Southern California beaches, believed poisoned by a naturally occurring toxic acid.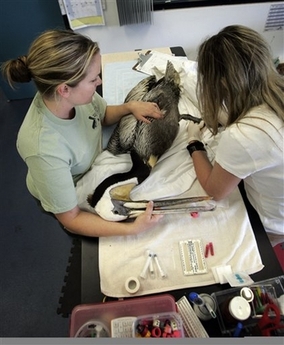 Wildlife biologist Susan Kaveggia, right, and wildlife technician Julie King prepare to examine an ailing California brown pelican at the LA Oiled Bird Care & Education Center in Los Angeles' San Pedro district Thursday, April 26, 2007. [AP]


A bloom of ocean algae that produces domoic acid may be responsible for killing or sickening dozens of the sea mammals, including birds, in recent weeks, environmentalists said.
On Friday state health officials warned consumers against eating certain locally harvested shellfish and seafood because they may be contaminated with the acid.
At least four sea lions were found Saturday on shores in Marina del Rey, Hermosa Beach, Redondo Beach and Venice, said Peter Wallerstein of the Whale Rescue Team.
"We've done at least 35 rescues in the past couple weeks," Wallerstein said. "The local marine care center is at full capacity and they are putting restrictions on how many animals we can bring in."
Another six dolphins have been picked off the beach in the past six days, he said, and about 110 animals have been rescued this year, he added. All were either dead, comatose or suffering from seizures.
Officials said consumers should avoid sport-harvested shellfish, sardines, anchovies, lobsters and crabs caught off the coast between Santa Barbara and Orange County. Dogs, cats and other pets also should not be fed the products, the state Department of Health Services said.
In the past week, 40 birds have been taken to the International Bird Rescue Center in San Pedro with symptoms of domoic acid poisoning, which attacks the brain and can cause seizures.
In previous seasons, the center might see seven birds a week, director Jay Holcomb said.
The algae population goes through an annual increase as ocean waters warm, but biologists say this year's bloom is especially early and extensive.
A similar outbreak in 2002 and 2003 sickened or killed more than a thousand sea lions and 50 dolphins.