COLOMBO - Tamil Tiger rebels used light aircraft to bomb key installations in and around Sri Lanka's capital Sunday, forcing cricket fans to flee from parks as the World Cup final was being shown.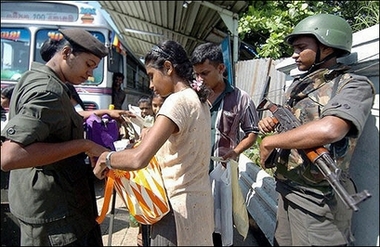 Sri Lankan soldiers search the belongings of bus passengers at an entrance to Colombo. Tamil Tiger rebels used light aircraft to bomb key installations in and around Sri Lanka's capital Sunday, forcing cricket fans to flee from parks as the World Cup final was being shown. [AFP]


Liberation Tigers of Tamil Eelam (LTTE) planes targeted two oil storage facilities, rebel spokesman Rasiah Ilanthiriyan said adding that it was a retaliatory strike.
"We sent two squadrons to target facilities that provide fuel to military aircraft after two Sri Lankan airforce jets bombed a suburb of Kilinochchi (inside rebel-held territory) just past midnight," he said.
He said it was a tit-for-tat attack after the military bombed the outskirts of Kilinochchi, 330 kilometres (206 miles) north of the capital using Israeli-built Kfir jets.
Within an hour, the Tigers scrambled "two squadrons" to attack targets in Colombo and returned to their secret location two hours later, he added.
During Sunday's pre-dawn air raid, explosions were heard in the capital two hours before the end of the national side's World Cup final match against Australia in the Caribbean.
As the city was plunged into darkness and the night sky was lit up with anti-aircraft gunfire, fans scrambled to leave parks and hotels where giant screens were switched off. Police sealed off several roads within the city.
Doctors said five people wounded during the military anti-aircraft fire were brought to the main hospital here. There were no reports of any other casualties.
The defence ministry confirmed that Tigers bombed an oil depot at Kolonnawa, a suburb of Colombo, and a liquid petroleum gas facility at Muthurajawela, a sparsely-populated marshy area on the way to the international airport.
The ministry said two bombs dropped on the gas facility hit a building and caused "minor damage" while the bombs at the oil depot failed to explode.
The Tigers carried out their first ever air strike last month, and followed it with a second last week on the Palaly military complex in the north of the country.
The guerrillas had bombed the oil facility by sending suicide bombers in October 1995. The Japanesde airforce had tried to bomb the same facility during World War II without success and instead bombed a neighbouring mental hospital.
Earlier Saturday, police and security forces sealed off Sri Lanka's capital, searching every vehicle entering and leaving the city amid fears of a Tamil Tiger attack.
The Tigers, who observed an unofficial truce when Sri Lanka played New Zealand in the semi-finals, remained non-committal when asked before Sunday's games started if they would hold their fire again.
Security forces fired tracer bullets into the air and officials said military units at key power stations, oil storage facilities, a domestic airport and the city centre opened fire with high-calibre anti-aircraft guns.
There was a second burst of firing 75 minutes later, when authorities said they suspected the rebel aircraft was still within the capital's air space.
The Tigers are believed to be operating five Czech-built Zlin-143 aircraft smuggled in to the island in knocked-down form and re-assembled.
Sri Lankan forces have been on high alert since the Tigers, whose drawn-out campaign for an independent state for the island's ethnic Tamil minority has left more than 60,000 people dead, carried out their first aerial strike last month.
There has been a surge in fighting since December 2005 leaving more than 4,000 people killed despite a truce arranged and put in place by peace broker Norway. ceasefire monitors say it is now limited only to paper.