Russian President Vladimir Putin attacked US foreign policy and urged a revival of traditional values Thursday in a hawkish speech that laid out a route for Russia to follow long after he steps down next year.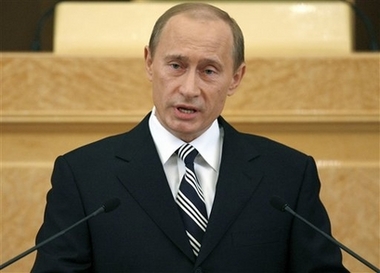 Russian President Vladimir Putin delivers the annual state of the nation address to the Federation Council, the upper house of parliament in Moscow's Kremlin Thursday, April 26, 2007. [AP]


Making his last annual address to lawmakers, Putin said he was suspending Russia's commitments under the Conventional Forces in Europe treaty and linked the move in part to US plans for a missile shield in eastern Europe.

He gave no clear answer to the question preoccupying Kremlin-watchers and investors who Putin would endorse as his replacement when his second and final term ends next March.

But he set the tone for Russia's next presidency, announcing a spending splurge on housing, pensions, defense and mammoth infra-structure projects including a canal to link the Caspian and Black Seas.

In a swipe at opposition groups who have taken to the streets alleging he is backtracking on democracy, the president railed at "extremists" and said foreign cash was being used to upset Russia's political stability.

However, the thread that ran through his 72-minute address was what he called Russia's moral state.

"Our nation's spiritual unity and the moral values which unite us are as important a factor in our development as political and economic stability," he said, urging greater efforts to preserve Russia's culture and language.

First deputy prime ministers Sergei Ivanov and Dmitry Medvedev, the men regarded as front-runners for Putin's job, sat side by side listening to the speech along with lawmakers, religious leaders and ministers in the Kremlin's Marble Hall.

Putin confirmed next year's address would be read by a different president. "It is premature for me to come out with political last wills and testaments," he added, to applause.

In his seven years as Russian leader, Putin has overseen steady growth in incomes and a return to political stability after years of turmoil.

But relations with the United States have soured dramatically and his critics say he is turning Russia away from the West and tightening state control over all areas of life.



| | | |
| --- | --- | --- |
| 1 | 2 | |