TOKYO - Less than a year ago, Japan's then-Prime Minister Junichiro Koizumi swept into a summit in the United States at the height of his popularity, even making a side trip to Graceland where he won over his hosts with an Elvis Presley impersonation.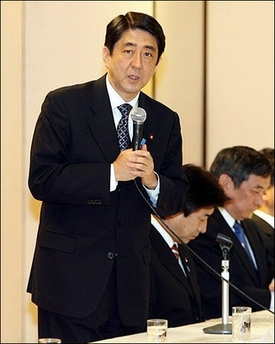 Japanese Prime Minister Shinzo Abe delivers a speech on 22 April 2007. [AP]


The summit this week between US President Bush and Japan's new prime minister, Shinzo Abe, will be a much more sedate affair - for good reasons on both sides of the Pacific.
Since taking office last September, Abe's government has gone from mishap to mishap, with a support rating to show for it. He took office with more than 70 percent approval, a rating which has nose-dived to about 40 percent just a few months before crucial elections in the upper house of parliament.
The nationalist prime minister also faces criticism in the United States over his opposition to a resolution in Congress that calls on Japan to voice an unequivocal apology for women forced into sexual slavery by Tokyo during World War II.
Meanwhile, the spiraling violence in Iraq has tarnished the Bush administration and detracted from the boost Japanese leaders have traditionally enjoyed when meeting with the leader of Tokyo's top ally.
"The times are different from Koizumi. I do not think there will be any domestic political gains by putting on display a cozy relationship with Bush," said Jiro Yamaguchi, political scientist at Hokkaido University.
Despite that baggage, the summit takes place during one of the warmest periods between Tokyo and Washington since the end of World War II.
The two allies are working side-by-side on building a ballistic missile defense system, pushing North Korea to abandon its nuclear weapons program and increasing overall military cooperation to unprecedented levels. Japan's Cabinet on Tuesday renewed its logistical support for troops in Afghanistan.
In October, a month after taking office, Abe broke with tradition by making China rather than the United States his first summit stop in an attempt to prevent a deterioration in ties with Beijing - a move that was supported by Washington. The two leaders met for the first time in November on the sidelines of a Pacific Rim summit in Vietnam.
The prime minister this week pointed to that as a sign that the two allies have solid confidence in their relationship.
"The alliance between Japan and the United States is moving toward maturity," Abe said in an interview with Japanese media. "It is no longer an age where we need to make an immediate visit to the United States after the establishment of a new government."
Indeed, Bush is expected to offer a warm welcome to Abe, whose country was a vocal supporter of the Iraq invasion and sent non-combat troops to the southern part of the country - Japan's first dispatch to a country at war since 1945.
Abe was to visit Arlington National Cemetery and attend a dinner at the White House on Thursday, and meet with Bush at Camp David on Friday, before heading off on a tour of the Middle East, including Saudi Arabia.
High on the agenda in the US will be the two allies' evolving military relationship. Abe is pushing to change the interpretation of Japan's pacifist constitution to allow greater integration with Washington's armed forces.
The summit, however, also comes as the US is floating the idea that Japan should boost military spending to pay for items such as missile defense. Tokyo currently limits defense outlays to 1 percent of gross domestic product.
US Ambassador Thomas Schieffer pointed out to reporters at his residence last month that the US spends 4 percent of GDP on defense.
"Part of that 4 percent allows us to provide for the defense of Japan," he said. "There are a lot of things that could be done out here that might bump them up against the unofficial 1 percent cap in their defense budget."
The comfort women issue has also sapped some of the glamour of the trip.
Abe sparked a furor in March when he said there was no evidence the Japanese military coerced thousands of women into sexual slavery during World War II, despite a 1993 statement by the then-government spokesman acknowledging the practice.
Abe attempted to defuse the controversy by declaring his adherence to the 1993 apology, but he was still facing questions about it just days before his departure for the US.
"I have already conveyed my views to President Bush over the phone. As an individual and as the prime minister, I would like to express my sincere sympathy for the circumstances that the comfort women were placed in at the time," Abe said in an interview this week.
Abe's political future is also uncertain. With his popularity flagging, his ruling Liberal Democratic Party faces the prospect of losing seats in the upper house elections in July. Serious losses in the chamber, where the LDP dominates only with the help of coalition partner the New Komei Party, could damage Abe and prompt the party to look for successors.