MOSCOW, - Russia on April 15 launched its first new generation nuclear submarine since the fall of the Soviet Union as the Kremlin seeks to upgrade its undersea nuclear strike force.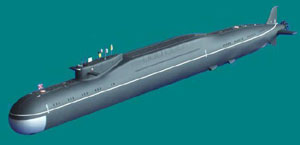 Sketch of Russia latest nuclear submarine Yuri Dolgoruky, on which Moscow pins high hopes to revitalize its undersea nuclear strike arsenal.[File from denizaltici.com]


The long delayed Yuri Dolgoruky, the first Borei-class (Arctic Wind) nuclear submarine, was moved to the dry docks at a highly secret submarine base in the Arctic town of Severodvinsk, the heart of Russia's northern submarine fleet.
Sergei Ivanov, Russia's powerful first deputy prime minister who rules the military-industrial sector, took part in the ceremony along with the navy top brass and Kremlin advisors.
"For the first time in 17 years we are launching such a vessel -- in essence this is the first Russian strategic submarine, a submarine of the new generation," Ivanov said, the RIA news agency reported.
"We have done a great thing -- shown that our shipbuilding sector is developing and that we can build such unique armaments," said Ivanov.
The launch of the new submarine is part of a plan, approved by President Vladimir Putin, to upgrade the core of Russia's undersea nuclear attack forces, military analysts said.
The Yuri Dolgoruky has taken 12 years to build after problems with state funding in the chaos of the 1990s, when the post-Soviet navy and shipbuilding industry lost much of its talent.
Putin has boosted funding for the submarine fleet, which has been involved in a string of fatal accidents including the sinking of the Kursk nuclear submarine in the Barents Sea in August 2000. All 118 sailors aboard the Kursk perished.
Russia's new super-quiet submarine will equipped with Bulava-M ballistic missiles, which have misfired in several recent tests. They have a range of 8,000 km (5,000 miles).
The Yuri Dolgoruky, which takes its name from a Slavic prince who helped defend Moscow, can descend to a depth of 450 metres (1,500 feet) and can carry 107 sailors. It will enter full service in the northern fleet in 2008.
Russia has the second largest nuclear submarine fleet in the world after the United States.