WASHINGTON - Vice President Dick Cheney repeated his assertions of al-Qaida links to Saddam Hussein's Iraq on Thursday as the Defense Department released a report citing more evidence that the prewar government did not cooperate with the terrorist group.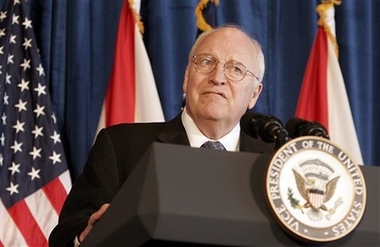 Vice President Dick Cheney speaks to guest at a fund raising luncheon for Sen. Jeff Sessions, R-Ala., at The Club in Birmingham, Ala., Monday, April 2, 2007. [AP]


Cheney contended that al-Qaida was operating in Iraq before the March 2003 invasion led by US forces and that terrorist Abu Musab al-Zarqawi was leading the Iraqi branch of al-Qaida. Others in al-Qaida planned the Sept. 11, 2001, attacks.

"He took up residence there before we ever launched into Iraq, organized the al-Qaida operations inside Iraq before we even arrived on the scene and then, of course, led the charge for Iraq until we killed him last June," Cheney told radio host Rush Limbaugh during an interview. "As I say, they were present before we invaded Iraq."

However, a declassified Pentagon report released Thursday said that interrogations of the deposed Iraqi leader and two of his former aides as well as seized Iraqi documents confirmed that the terrorist organization and the Saddam government were not working together before the invasion.

The Sept. 11 Commission's 2004 report also found no evidence of a collaborative relationship between Saddam and Osama bin Laden's al-Qaida network during that period.

Sen. Carl Levin, D-Mich., the chairman of the Senate Armed Services Committee, had requested that the Pentagon declassify the report prepared by acting Defense Department Inspector General Thomas F. Gimble. In a statement Thursday, Levin said the declassified document showed why a Defense Department investigation had concluded that some Pentagon prewar intelligence work was inappropriate.

The report, which had been released in summary form in February, said that former Pentagon policy chief Douglas J. Feith had acted inappropriately but not illegally in reviewing prewar intelligence. Levin has claimed that Feith's intelligence assessment was wrong and distorted but nevertheless formed part of the basis on which President Bush took the country to war.

Although Feith's assessment in mid-2002 offered several examples of cooperation between Saddam's government and al-Qaida, the report said, the CIA had concluded months earlier that no evidence supported the existence of significant or long-term relationships.