A French architect said on Friday he had cracked a 4,500-year-old mystery surrounding Egypt's Great Pyramid, saying it was built from the inside out.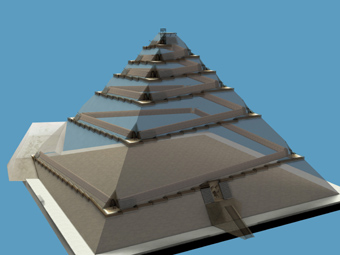 A computer illustration of French architect Jean-Pierre Houdin's new theory to explain the building of the Great Pyramid is unveiled in Paris March 30, 2007. Houdin believes it was built from the inside out, using a ramp ascending in a spiral inside the surface of the pyramid and hidden from view. Previous theories held that blocks of stone were hauled up a frontal ramp or a ramp wrapped in a corkscrew shape around the outside of the pyramid. [Reuters]

Previous theories have suggested Pharaoh Khufu's tomb, the last surviving example of the seven great wonders of antiquity, was built using either a vast frontal ramp or a ramp in a corkscrew shape around the exterior to haul up the stonework.

But flouting previous wisdom, Jean-Pierre Houdin said advanced 3D technology had shown the main ramp which was used to haul the massive stones to the apex was contained 10-15 metres beneath the outer skin, tracing a pyramid within a pyramid.

"This is better than the other theories, because it is the only theory that works," Houdin told Reuters after unveiling his hypothesis in a lavish ceremony using 3D computer simulation.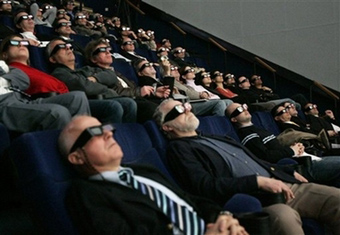 Spectators wearing 3D glasses watch a 3D presentation of French architect Jean-Pierre Houdin's theory on the construction of the Great Pyramid, Friday, March 30, 2007 at the Geode cinema in Paris. During a 3D screening followed by a press conference at the Paris Geode cinema on Friday, Houdin exposed his revolutionary theory of the construction of the Great Pyramid of Khufu, arguing it was built from the inside. Houdin presented the hypothesis of an internal ramp and the use of a counterweight system. Houdin used 3D technology to have his theory confirmed. [AP]

To prove his case, Houdin teamed up with a French company that builds 3D models for auto and airplane design, Dassault Systemes, which put 14 engineers for 2 years on the project.

Now, an international team is being assembled to probe the pyramid using radars and heat detecting cameras supplied by a French defence firm, as long as Egyptian authorities agree.

"This goes against both main existing theories. I've been teaching them myself for 20 years but deep down I know they're wrong," Egyptologist Bob Brier told Reuters at the unveiling.

"Houdin's vision is credible, but right now this is just a theory. Everybody thinks it has got to be taken seriously," said Brier, a senior research fellow at Long Island University.

Egypt's Supreme Council of Antiquities was not immediately available for comment. Dassault said Brier and other Egyptologists attending the ceremony were supporters of Houdin's theory but had no financial links to him or the firm.

| | | |
| --- | --- | --- |
| 1 | 2 | |