BAGHDAD - Two truck bombs shattered markets in Tal Afar on Tuesday, killing at least 63 people and wounding dozens in the second assault in four days on a predominantly Shiite Muslim city hit by a resurgence in violence a year after it was held up as a symbol of US success.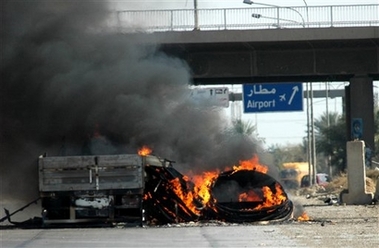 A truck carrying supplies for the U.S. military burns on the expressway in western Baghdad, Iraq, Tuesday, March 27, 2007. A group of unknown gunmen attacked the truck and set it on fire, according to the Iraqi police. [AP]


After the bombings, suspected Sunni insurgents tried to ambush ambulances carrying the injured out of the northwestern city but were driven off by police gunfire, Iraqi authorities said.

The carnage was the worst bloodshed in a day of attacks across Iraq.

A major Sunni Arab insurgent group reported its military leader was slain outside Baghdad, an assault likely to deepen an increasingly bloody rift between al-Qaida in Iraq and opponents of the terror group in Sunni communities west of the capital.

In Baghdad, a US soldier and an American working as a US government contractor were killed by a rocket attack on the heavily guarded Green Zone, US officials said. Another contract worker suffered serious wounds and three were slightly wounded. A soldier also was wounded.

A US Marine died during combat operations in Anbar province, a hotbed of Sunni Arab insurgents west of Baghdad, the military said in a statement.

Meanwhile, hundreds of Iraqis detained in the US-led security crackdown in Baghdad are being held in two detention centers designed to hold at most a few dozen people, The New York Times reported Wednesday, citing an Iraqi monitoring group.

The report said 705 people were packed into an area built for 75 at one of the detention centers, in the town of Mahmudiya, south of Baghdad. The other center, on Muthana Air Base, held 272 people, including two women and four boys, in a space designed to hold about 50.

Officials from the monitoring group said they did not know the sectarian composition of the detainee populations.

US soldiers, meanwhile, foiled two suicide truck bombers trying to attack their base in a small town 50 miles west of Baghdad and killed as many as 15 attackers, the military said. It said eight soldiers suffered wounds, all but one of them slight, during the firefight in Karmah.

Iraqi police reported at least 109 people killed or found dead nationwide. The toll included two elderly sisters -- both Chaldean Catholic nuns in the increasingly tense city of Kirkuk -- who were stabbed multiple times in what appeared to be a sectarian killing.

| | | |
| --- | --- | --- |
| 1 | 2 | |