PHILADELPHIA - A 46-year-old man whose body was powered by three separate hearts in the span of a month walked out of the hospital Thursday and said he felt like competing in a triathlon. "I feel like a million dollars, actually," said patient Gary Onufer. "I feel like a whole new person."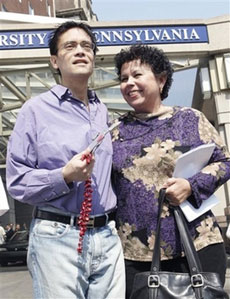 Gary Onufer and his wife, Joan, walk outside the University of Pennsylvania Hospital in Philadelphia, Thursday, March 22, 2007. The 46-year-old man has had three separate hearts in less than a month. [AP]


Accompanied by his wife and hospital staff, Onufer took slow steps out of the Hospital of the University of Pennsylvania as a donor heart beat in his thin frame. The organ replaced a temporary "Total Artificial Heart," a mechanical device that doctors said Onufer was the first person to receive in the Northeast.

"I feel like I could do a triathlon right now," said Onufer, an insurance agent from Ambler.

Onufer was "deathly ill" when he arrived at the Penn hospital on Feb. 1, said Dr. Michael Acker, one of his surgeons. Though doctors still aren't sure why, the seemingly healthy and active man was suffering from congestive heart failure and needed a new organ.

Most patients in that situation would have a device implanted in their ailing hearts to keep them alive until a donor can be found, health officials said. But doctors thought Onufer's heart, even with artificial help, was too weak to last the two months Acker said is normally needed to find a donor.

So they asked Onufer if he wanted to be a pioneer of sorts by undergoing the region's first implant of the Total Artificial Heart, made by Arizona-based SynCardia Systems.

Onufer said yes.

"My choices were very limited," he said Thursday. "I would have slowly died."

The apparatus, approved by the federal Food and Drug Administration in October 2004, is a modern version of the one invented by Dr. Robert Jarvik and first implanted in a patient 25 years ago.

On Feb. 12, doctors removed Onufer's failing heart in a six-hour procedure and replaced it with a Total Artificial Heart. Though it still required Onufer to stay at the hospital, the "bridge to transplant" allowed him to exercise and, essentially, heal the damage caused by his old heart while he awaited a donor.

"That's what was very exciting to us," said Acker.

Because Onufer's artificial heart worked so well, doctors could be more choosy in finding the right match for him, Acker said. It turned out that a suitable organ for Onufer came along 28 days after the artificial heart was implanted.

Onufer underwent a transplant March 11. Eleven days later, he was walking out of the hospital, holding a lucky Tin Man charm that had been given to him by a nurse. The character from "The Wizard of Oz" also needed a heart.

The past month has virtually been a blur, he said.

"It was like riding by the seat of my pants at 110 miles per hour," said Onufer.

His wife Joan agreed.

"It still hasn't sunk in," she said. "I'm just thankful that he's alive."