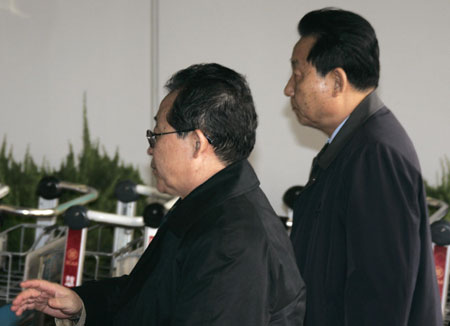 North Korean nuclear envoy Kim Kye-gwan (L) waves as he leaves from Beijing airport March 22, 2007. Talks on North Korea's nuclear programme ground to a halt in Beijing on Thursday, with the North Korean and Russian envoys both leaving for the airport after four days of negotiations went nowhere. [Reuters]


Beijing -- The six-party talks would go into recess, a diplomatic source close to the talks said Thursday afternoon, asking not to reveal his name and delegation.

The six parties will meet around 5 p.m. and annouce recess of the meeting, the source said.

It is also reported that chief Russian envoy Alexander Losyukov and chief envoy of Democratic People's Republic of Korea (DPRK) left Beijing Thursday afternoon.

North Korean chief nuclear envoy Kim Kye Gwan went to Beijing's airport Thursday for a flight home after a breakdown in talks on disarming Pyongyang's nuclear program.

Kim had refused to take part in the six-party talks held this week on ways to push forward a February agreement on North Korea giving up its nuclear program in return for energy aid because of problems over the transfer of North Korean funds frozen in a Macau bank.

Kim waved to reporters when he arrived at the airport but did not say anything.

The talks had foundered Tuesday due to the dispute over $25 million that has been frozen since 2005 in a Macau lender, Banco Delta Asia, under pressure from the United States.

US officials announced this week that the money would be transferred to the North Koreans, saying it was up to the Monetary Authority of Macau, a Chinese territory, to release the funds.

China had promised to resolve the issue as quickly as possible, with the funds to be transferred to a North Korean account at a Beijing bank.

Various reasons have been given for the delay. A Japanese government official, who spoke on condition of anonymity because of the sensitivity of the talks, said the receiving bank, the Bank of China, was reluctant to accept money that has been the focus of investigations.

South Korea's Yonhap news agency said the money transfer was being delayed because Macau authorities were having difficulty confirming the ownership of 50 North Korean accounts, most of which are under the names of the heads of Zokwang Trading Co., a North Korean-run firm in Macau that US officials have long suspected of being involved in money laundering.

A woman from publicity department at the Bank of China, who would not give her name, said she had no information about the BDA issue at the moment.

Chief US envoy Christopher Hill had said earlier Thursday that the Chinese side had "made some progress" on getting the money cleared but did not give details or say when the money would arrive.

| | | |
| --- | --- | --- |
| 1 | 2 | |