BAGHDAD - Saddam Hussein's former deputy was hanged before dawn Tuesday for the killings of 148 Shiites, an official with the prime minister's office said.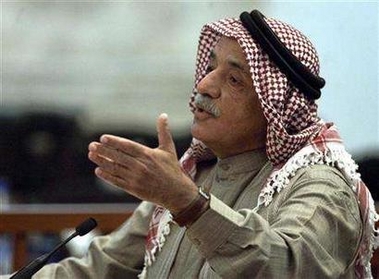 Iraq's former vice president Taha Yassin Ramadan speaks during final arguments for their trial in Baghdad's heavily fortified Green Zone in this July 27, 2006 file photo. [Reuters]


Taha Yassin Ramadan, who was Saddam's vice president when the regime was ousted by the U.S.-led invasion that began four years ago Tuesday in Iraq, was the fourth man to be executed in the killings following a 1982 assassination attempt against the former leader in the town of Dujail.
Special coverage:
Violence continues in Iraq

Related readings:
Gates on Iraq strategy: 'so far, so good'
Thousands march to protest against Iraq War
Senate GOP turns back Iraq pullout plan
Cheney: US wants to leave Iraq with honour
House reject Bush's Iraq troop plan
Clinton: US out of Iraq by January '09
US general speaks bluntly of task
US adjusts Iraq tactics after copters downed
Australia wants its troops out of Iraq
South Korea to pull 650 troops from Iraq
Bassam al-Hassani, an adviser to Prime Minister Nouri al-Maliki, said precautions were taken to prevent a repeat of what happened to Saddam's half brother and co-defendant Barzan Ibrahim, who was inadvertently decapitated on the gallows during his January execution.
Ramadan, who was nearly 70, was weighed before the hanging and the length of the rope was chosen accordingly, al-Hassani said.
The execution took place at 3:05 a.m. an Iraqi army and police base, which had been the headquarters of Saddam's military intelligence, in a predominantly Shiite district in northern Baghdad. Ramadan had been in U.S. custody but was handed over to the Iraqis before the hanging, according to al-Hassani, who witnessed the hanging.
The prosecutor read out the verdict of the appeals court upholding the death sentence along with al-Maliki's decision to carry it out, al-Hassani said, adding that a defense lawyer received Ramadan's written will. The contents were not revealed.
Al-Hassani said the execution went smoothly, although Ramadan appeared frightened and recited the two shahadahs -- a declaration of faith repeated by Muslims -- "There is no God but Allah and Muhammad is his Prophet."
Ramadan was convicted in November of murder, forced deportation and torture and sentenced to life in prison. A month later, an appeals court said the sentence was too lenient, and returned his case to the High Tribunal, which sentenced him to death.
Ramadan, who became vice president in March 1991 and was a Revolutionary Command Council member -- Iraq's highest political body under Saddam -- had maintained his innocence, saying his duties were limited to economic affairs, not security issues.
Saddam was executed on Dec. 30 for his role in the killings. Two of his co-defendants in the Dujail case -- Ibrahim, Saddam's former intelligence chief, and Awad Hamed al-Bandar, former head of Iraq's Revolutionary Court -- were executed in January.
Ibrahim plunged through the trap door and was beheaded by the jerk of the thick rope at the end of his fall, causing a furor; the Iraqi government said the decapitation was an accident. Saddam's execution drew international outrage after a clandestine video showed the former president being taunted on the gallows. Another leaked video showed Saddam's corpse with a gaping neck wound.
Saddam's regime was predominantly Sunni and many members of the sect have protested the executions on the grounds they are politically motivated by the newly empowered Shiite majority in Iraq. International human rights groups have, by and large, protested that the trial that found the men guilty did not provide them with due legal process.
Around Iraq, meanwhile, bombs tore through a Shiite mosque during prayers in Baghdad and struck several targets in the oil-rich city of Kirkuk on Monday, killing at least 26 people.
The latest attacks highlighted the challenges facing U.S. and Iraqi forces in their bid to curb sectarian bloodshed with the month-old security crackdown. Execution-style killings usually blamed on Shiite militias have fallen dramatically but bombings have not kept pace in the downward trend.
Late Monday, U.S. and Iraqi troops engaged in a major operation as part of the crackdown in the volatile Hurriyah neighborhood in northern Baghdad, state television said. Witnesses said there were many people reported holed up in two Shiite mosques, surrounded by U.S. forces.
The state-run Iraqiya network said six civilians had been killed. The U.S. military did not immediately comment on the reports.
With the war entering its fifth year, President Bush pleaded for patience as he faced Democrat-sponsored legislation that effectively would require the withdrawal of American troops from Iraq by the fall of 2008. He said his plan to curb violence by sending more U.S. troops to Baghdad and the surrounding areas needed more time. Fewer than half the reinforcements have arrived.
"There will be good days and bad days ahead as the security plan unfolds," he said in a televised statement, adding that he had received news of positive signs during a briefing on the war with his National Security Council and in a video conference call with al-Maliki.
The first military action of the war occurred in the early morning on March 20, 2003, in Baghdad, but it was still March 19 in the United States.
Al-Maliki's office said the Shiite leader assured Bush in their half-hour call that his government was pressing ahead with reconstruction and political reforms and that it remained committed to national reconciliation and the passage of a draft oil law.
Nobody claimed responsibility for Monday's bombings, but they bore the hallmarks of Sunni insurgents.
The violence in Baghdad began shortly after the afternoon call to prayer in a small green-domed mosque in the Shorja market area, where a truck bomb killed 137 people last month.
Salah Baqir, a 42-year-old vendor who saw the attack, said the bomber slipped past the guards and placed the explosives in a bag behind the preacher's lectern. The blast left a crater and a pile of rubble on the floor. At least eight worshippers were killed and 32 other people were wounded, including the preacher, police said.
Iraqi authorities have imposed strict security in the area to prevent car bombings that often target crowded markets, but Sunni insurgents have proven resilient in finding ways to circumvent the stepped up security since the start of the crackdown Feb. 14.
At least 18 people were killed and more than 50 wounded in a series of bombings in Kirkuk, 180 miles north of Baghdad -- the most devastating when two parked car bombs exploded within 10 minutes in a southern part of the city. Fourteen civilians and four policemen were killed and 40 were wounded, police said.
In all, at least 55 Iraqis were killed or found dead in Iraq, including the mayor of a Shiite village southeast of Baghdad and 29 bullet-riddled bodies that turned up in the capital.
In the Sunni insurgent stronghold of Anbar province, police said at least 25 decomposed bodies -- some beheaded -- were found near a post office east of the provincial capital Ramadi. The U.S. military said it had no information on the report.
The U.S. military also said two Iraqi soldiers were killed and 12 were wounded when explosives planted by insurgents in a building being used as an observation post were detonated on Sunday, causing the structure to collapse in Fallujah.