NOVOKUZNETSK, Russia - Rescuers on Tuesday searched for eight miners missing nearly a day after a methane gas explosion in a Siberian coal mine that killed at least 106 others. It was Russia's deadliest mining disaster in a decade.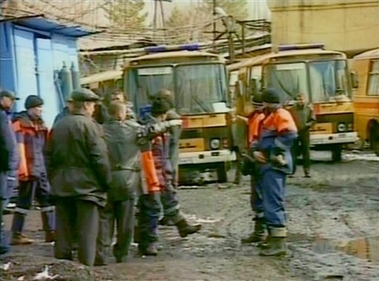 Rescuers confer at Ulyanovskaya mine near Novokuznetsk, about 2977 km (1,850 miles) east of Moscow in this image from a television broadcast Monday, March 19, 2007. [AP]


Some 200 workers were in the Ulyanovskaya mine in the coal-rich region known as the Kuzbass at the time of the blast, which occurred early Monday at a depth of around 885 feet, emergency and regional officials said.

Emergency Situations Ministry spokeswoman Polina Avyazova told The Associated Press that 106 miners were confirmed dead and that the search was continuing for four who remained missing; 93 had been rescued earlier.

Company officials and safety experts, along with a British citizen and his interpreter, were in the mine examining a British-made hazard monitoring system just before the blast occurred, said Sergei Cheremnov, a spokesman for the regional government in Kemerovo where the mine is located.

The British man and the interpreter were later confirmed dead. Cheremnov said it was unclear exactly what he was doing in the mine.

The massive mine in the city of Novokuznetsk, about 1,850 miles east of Moscow, is operated by Yuzhkuzbassugol, an affiliate of Russian coal and steel company Evraz Group SA, which acquired a 50 percent stake in the company in 2005.

No one answered repeated calls to the company. However, company spokesman Eduard Sivtsov earlier told Russian television channel NTV that rescuers were checking a large section of the mine for survivors.

"Their work is complicated by a great number of obstructions," he said.

President Vladimir Putin ordered Emergency Situations Minister Sergei Shoigu to travel to the area, and the industrial regulatory agency Rostekhnadzor had sent investigators.

The mine is located in the city Novokuznetsk, the site of two of the deadliest mine disasters in the past decade. In 2004, a blast at a mine on the outskirts of the city killed 47 workers and in 1997, a methane explosion killed 67.

Russia's mining industry fell into disrepair when government subsidies dried up after the Soviet collapse. At least 30 workers died in Russian mining accidents last year, including 25 killed in a fire at a Siberian gold mine.

In the US last year, 47 workers died in coal mine accidents, including 12 in the Sago Mine accident in West Virginia. It was the US industry's deadliest year since 1995, when 47 were killed.

| | | |
| --- | --- | --- |
| 1 | 2 | |