KABUL, Afghanistan - A car bomb exploded next to a US Embassy convoy on a busy road in Kabul on Monday, setting an embassy SUV on fire, officials said.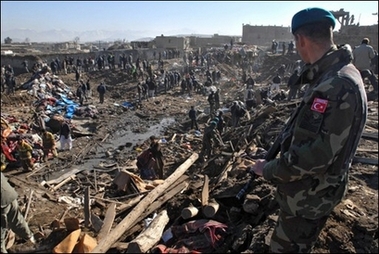 A soldier at a blast site in Afghanistan. A suicide attacker drove an explosives-filled car into a vehicle carrying foreigners in the Afghan capital Kabul on Monday but it was not immediately clear if there were casualties. [Agencies]


Joe Mellott, a spokesman for the US Embassy, said several people in the convoy were wounded, one seriously. He said the US ambassador was not in the convoy.
An initial alert over an embassy warning system said: "A US Embassy convoy was struck by a suicide bomber in the vicinity of the US Embassy," according to an Associated Press reporter who heard the alert over the phone.
Mellott said the warning was initial incoming information and it wasn't immediately clear if it was a suicide bomber who carried out the attack.
The bombing took place about 2 miles from the embassy on a road often targeted in bombings and rocket attacks. The road leads out of Kabul and to the US base at Bagram.
First aid was administered to two people in the three-vehicle convoy, according to an AP reporter who witnessed the blast.
US Embassy security teams prevented Afghan police, NATO soldiers and journalists from getting close to the vehicles, the AP reporter said.
Late last month, a suicide bomber killed 23 people outside the US base at Bagram during a visit by Vice President Dick Cheney.