Thousands of anti-war demonstrators, some carrying yellow and black signs reading "U.S. out of Iraq now!" marched on the Pentagon on Saturday, one of several protests worldwide to mark four years of war.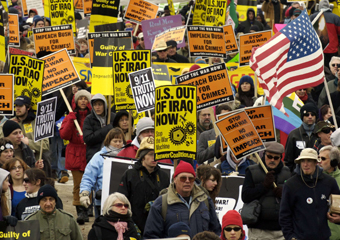 Thousands of protesters against the war in Iraq walk in the March on the Pentagon in Washington, March 17, 2007.[Reuters]

The march, on a cold, cloudy and windy St. Patrick's Day, comes just before the fourth anniversary of the start of the Iraq war on Tuesday and 40 years after a similar protest at the Pentagon over the Vietnam War.

On a stage in the Pentagon parking lot, speaker after speaker demanded the end of the war in Iraq and some called for President George W. Bush's impeachment. A flag-draped coffin was displayed near the stage bearing a picture of a young soldier killed in Iraq.

"We're here in the shadow of the war machine," peace activist Cindy Sheehan said. "We need to shut it down."

Wearing a black ski cap, Sheehan said soldiers like her son, Casey, who was killed in Iraq, were being sent "to die for nothing."

A woman for the group that organized the protest told the cheering crowd, "Impeach Bush, impeach Cheney, impeach Gates." The latter references were to Vice President Dick Cheney and Defense Secretary Robert Gates.

Jonathan Hutto, a 29-year-old active-duty sailor who served in Iraq, urged the demonstrators to tell lawmakers "to get a backbone and spine" and stop the war.

The march began near the Vietnam War Memorial, just a few blocks from the White House, and proceeded across the Potomac River toward the Pentagon.

A smaller group of war supporters held a counter-demonstration with signs that said: "Win the war or lose to jihad," "Our troops are shedding their blood to keep terrorists from America," and "St. Patrick: Drive the Democrats from our land."

One of the supporters, Vietnam War veteran David Warne, 57, said, "What you need to have is the military fight a war, not a bunch of politicians," referring to efforts by Democrats in Congress to limit the war.

| | | |
| --- | --- | --- |
| 1 | 2 | |