WASHINGTON - Khalid Sheikh Mohammed, the suspected mastermind of the Sept. 11 attacks, confessed to that attack and a string of others during a military hearing at Guantanamo Bay, Cuba, according to a transcript released Wednesday by the Pentagon.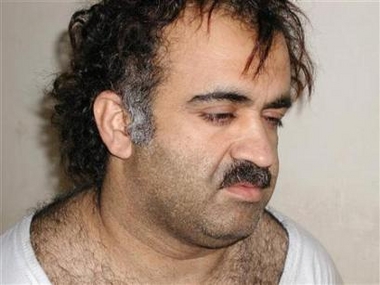 Khalid Sheikh Mohammed is shown in this photograph during his arrest on March 1, 2003. Mohammed, the alleged mastermind of the September 11 attacks on the United States, has claimed responsibility for those and other major al Qaeda attacks, according to the transcript of a hearing at Guantanamo Bay released on Wednesday. [Reuters]


Mohammed claimed responsibility for planning, financing, and training others for bombings ranging from the 1993 attack at the World Trade Center to the attempt by would-be shoe bomber Richard Reid to blow up a trans-Atlantic flight with explosives hidden in his shoes.

In all, Mohammed said he was responsible for planning 29 individual attacks, including many that were never executed. The comments were included in a 26-page transcript released by the Pentagon, which also blacked out some of his remarks.

The Pentagon also released transcripts of the hearings of Abu Faraj al-Libi and Ramzi Binalshibh.

Binalshibh is suspected of helping Mohammed with the Sept. 11, 2001, attack plan and is also linked to a foiled plot to crash aircraft into London's Heathrow Airport. Al-Libi is a Libyan who reportedly masterminded two bombings 11 days apart in Pakistan in December 2003 that targeted President Pervez Musharraf for his support of the US-led war on terror.

The hearings, which began last Friday, are being conducted in secret by the military as it tries to determine whether 14 alleged terrorist leaders should be declared "enemy combatants" who can be held indefinitely and prosecuted by military tribunals.

Hearings for six of the 14 have already been held. The military is not allowing reporters to attend the sessions and is limiting the information it provides about them, arguing that it wants to prevent sensitive information from being disclosed.

The 14 were moved in September from a secret CIA prison network to the prison at the US naval base at Guantanamo Bay, where about 385 men are being held on suspicion of links to al-Qaida or the Taliban.