TEHRAN - Iran said on Sunday President Mahmoud Ahmadinejad wants to go before the UN Security Council to defend his country's civilian nuclear plans, which the West says are a covert attempt to make atom bombs.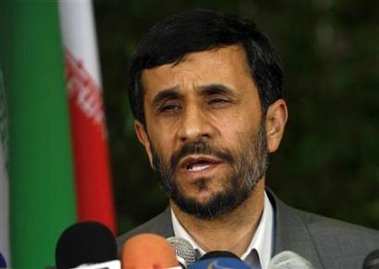 Iran's President Mahmoud Ahmadinejad addresses a news conference in Sudan's capital Khartoum, March 1, 2007. [Reuters]


The five permanent members of the Council - the United States, France, Britain, China and Russia - plus Germany are discussing imposing new sanctions on Iran over its nuclear ambitions, which Tehran insists are entirely peaceful.

"The president of Iran plans to speak in a possible meeting of the Security Council on Iran's nuclear program to defend the right of the Iranian nation to use peaceful nuclear technology," state TV on Sunday quoted government spokesman Gholamhossein Elham as saying, without giving further details.

Iran's IRNA news agency quoted Elham as saying Ahmadinejad planned to attend "if the Security Council has a meeting on Iran's nuclear program."

Chinese UN ambassador Wang Guangya told reporters after a meeting of the six on Sunday in New York: "Any member has the right to come to the council."

Alejandro Wolff, the US representative, said he had seen the news report but no request for a visa. "I have not seen anything concrete so I don't know what to make of it," he said after the meeting.

Iran has ignored United Nations demands that it halt uranium enrichment, a process Western nations say Tehran is mastering so it can produce atom bombs. Iran, the world's fourth biggest oil exporter, insists its aim is nuclear power generation.

In December the Security Council imposed a package of limited sanctions including a ban on the transfer of sensitive nuclear technology or know-how. It threatened further steps if Iran failed to meet its February 21 deadline to suspend enrichment.

Among measures under consideration are a variety of financial restrictions as well as an expansion of an earlier list of people, firms and groups whose assets would be frozen or with whom trade would be banned, such as Iran's Revolutionary Guards and the state-owned Bank Sepah.

The six are also discussing a travel ban against those on the list and an embargo on conventional arms.

French Foreign Minister Philippe Douste-Blazy told a news conference in Abu Dhabi that new sanctions should be imposed on Iran for failing to meet Security Council demands.

"Our position has not changed but it is based on two words: firmness and dialogue," he said according to Arabic translation.

"Our aim is to find a solution based on negotiation," he added when asked about the possibility of military action, a step the United States has not ruled out if diplomacy fails.