BAGHDAD, Iraq - US and Iraqi troops poured into Baghdad's main Shiite militia stronghold Sunday, encountering no resistance in the one-time Sadr City combat zones but testing the Shiites' commitment to the US-promoted campaign to drive militants from the capital.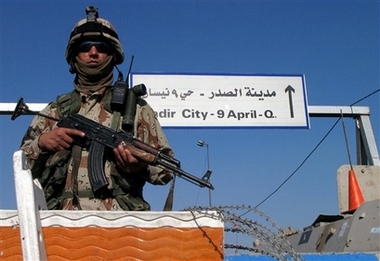 An Iraqi army soldier stands guard at a vehicle checkpoint at the entrance to Baghdad's Shiite enclave of Sadr City, Iraq, Sunday, March 4, 2007. [AP]


Outside Baghdad, US soldiers described a raid last week that uncovered a suspected Sunni "torture site" and the rescue of two Iraqi captives, who apparently had been spared immediate execution because the militants' video camera broke and they wanted to film the killing.

The quiet but dramatic advance in Sadr City - involving nearly 1,200 US and Iraqi forces who didn't fire a shot - marked one of the most significant developments in the security clampdown in Baghdad since it took effect nearly three weeks ago.

But it only received the green light after drawn-out talks between US commanders and political allies of radical Shiite cleric Muqtada al-Sadr and his powerful Mahdi Army. Both sides are watching each other for any wrong moves on the same streets where they battled in the past, including intense urban warfare in 2004.

Al-Sadr's militiamen lowered their profile under intense government pressure to give the security operation a chance to root out both Sunni and Shiite extremists. US military leaders, however, must walk a fine line as part of the tacit truce. They are seeking suspected Shiite death squads leaders, but must keep from squeezing al-Sadr's militia too hard - and risk collapsing the entire drive to reclaim Baghdad from extremists and gangs.

"The indication that we are getting is a lot of the really bad folks have gone into hiding," said Lt. Col. David Oclander shortly after troops moved into Sadr City's teeming grid of low-rise buildings in northeast Baghdad.

Oclander said "not a shot was fired" as troops entered the area - which was constructed in the 1960s to house poor Shiites seeking work in the capital and was known as Saddam City until the former Iraqi leader's fall in 2003.

As the insurgency picked up steam in the past few years, Sadr City became the site of frequent battles. Among the US casualties was Spc. Casey Sheehan, whose death on April 4, 2004, began the anti-war campaign of his mother, Cindy Sheehan.

Last week, US and Iraqi forces began pinpoint raids into Sadr City seeking suspected leaders of Shiite death squads blamed for thousands of execution-style slayings of Sunni rivals in recent years. Since Friday, military planners have worked inside a Sadr City police station in apparent preparations to create a permanent outpost, police said.

Despite the calm crossing into Sadr City, some quickly protested the strong US presence.

An al-Sadr ally, lawmaker Falah Hassan, claimed the Sadr City pact called for Iraqi forces to lead the searches and only call in US units if they faced resistance. He called the front-line US role a "provocative act."

Al-Sadr, too, has complained about the heavy US role in the raids around the city. In a statement last week, he also decried the security plan's inability to stop car bombs and other attacks blamed on Sunni insurgent groups against Shiite civilians.

The comments raised worries that he could order his Madhi Army to confront forces carrying out the security operation. But he didn't attempt to raise the stakes - a possible sign of newfound caution from al-Sadr.

Late last year, Washington strong-armed Shiite Prime Minister Nouri al-Maliki into pulling his protection for the firebrand cleric, who is based in the Shiite holy city of Najaf in southern Iraq and is a major political ally of the prime minister.

"We don't know if he has a change of heart, but certainly there is a change of tactic," the US ambassador to Iraq, Zalmay Khalilzad, told CNN.

For a third consecutive day, Baghdad was spared a car bombing or attack bringing mass casualties. But there was still bloodshed. A Shiite newspaper editor and a police officer were gunned down.

After nightfall, US artillery was heard across Baghdad. In recent days, US gunners have hit suspected Sunni insurgent staging grounds south of the city.

| | | |
| --- | --- | --- |
| 1 | 2 | |