JALALABAD, Afghanistan - US Marines fleeing a militant ambush Sunday opened fire on civilian cars and pedestrians on a busy highway in eastern Afghanistan, wounded Afghans said. Up to 16 people were killed and 34 wounded in the violence, officials said.

A suicide attacker detonated an explosives-filled minivan as the American convoy approached, then militant gunmen fired on the troops inside the vehicles, who returned fire, the US military said.

As the Americans sped away, they treated every car and person along the highway as a potential attacker, said Mohammad Khan Katawazi, the district chief of Shinwar. But Maj. William Mitchell, a US military spokesman, said those killed and injured may have been shot by the militants.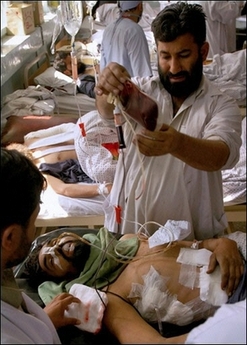 A wounded Afghan receives medical attention as he lies in a hospital bed in Jalalabad after being injured during a suicide car bomb attack on an US convoy. Sixteen civilians were killed in eastern Afghanistan when a US convoy was ambushed and troops returned fire, the US-led coalition said.[AFP]

More than a half dozen Afghans recuperating from bullet wounds told The Associated Press that the US forces fired indiscriminately along at least a six-mile stretch of one of eastern Afghanistan¡¯s busiest highways -- a route often filled not only with cars and trucks but Afghans on foot and bicycles.

'They opened fire on everybody'
"They were firing everywhere, and they even opened fire on 14 to 15 vehicles passing on the highway," said Tur Gul, 38, who was standing on the roadside by a gas station and was shot twice in his right hand. "They opened fire on everybody, the ones inside the vehicles and the ones on foot."

The casualty tolls varied widely. The US military said 16 civilians were killed and 24 wounded "during the initial attack." A US soldier was also injured. The incident was under investigation, the military said.

"We certainly believe it's possible that the incoming fire from the ambush was wholly or partly responsible for the civilian casualties," Mitchell said.

Nangarhar provincial health chief Ajmel Pardus said eight people were killed, including a woman and two boys, and 34 were wounded. Four of the wounded were in critical condition, he said.

Interior Ministry spokesman Zemeri Bashary said the chief of the Interior Ministry¡¯s criminal division would lead a delegation to Nangarhar province on Monday to investigate. Bashary said it appeared that gunfire from the US soldiers caused most of the casualties.

'Death to America!'
The gunfire from Americans prompted angry demonstrations in the region -- just 30 miles west of the Pakistan border. Hundreds of Afghans blocked the road and threw rocks at police, with some demonstrators shouting "Death to America! Death to Karzai," a reference to President Hamid Karzai.

At the Jalalabad hospital, several victims said the American convoy approached them on the highway and opened fire. As the convoy neared, many cars pulled over to the side of the road, but were still hit by gunfire.

"When we parked our vehicle, when they passed us, they opened fire on our vehicle," said 15-year-old Mohammad Ishaq, who was hit by two bullets, in his left arm and his right ear. "It was a convoy of three American Humvees. All three humvees were firing around."

Ahmed Najib, 23, lay in the next bed, hit by a bullet in his right shoulder.

"One American was in the first vehicle, shouting to stop on the side of the road, and we stopped. The first vehicle did not fire on us, but the second opened fire on our car," Najib said, adding that his 2-year-old brother was grazed by a bullet on his cheek. "I saw them turning and firing in this direction, then turning and firing in that direction. I even saw a farmer shot by the Americans."

NATO and US forces are often accused of firing at Afghan civilians they fear may be about to launch an attack. Though officials say the shootings are done in self defense, they often injure or kill innocent civilians. On Dec. 3, British troops speeding away from a suicide bomb attack in Kandahar city opened fire on cars, killing one civilian and wounding six others.

| | | |
| --- | --- | --- |
| 1 | 2 | |