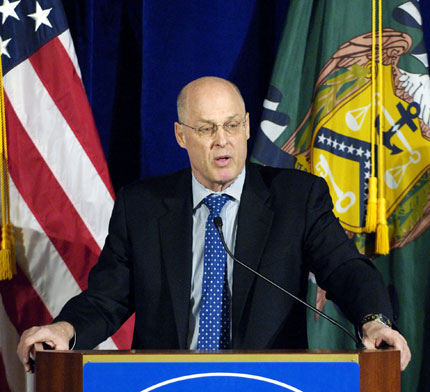 US Treasury Secretary Henry Paulson speaks at an Economic Club of Washington luncheon in Washington March 1, 2007. [Reuters]


WASHINGTON - US Treasury Secretary Henry Paulson said Thursday he was worried about growing calls for protectionism to help ease the massive US trade deficit, saying protectionist barriers are not the solution to the problem.

"Some politicians from both parties, reflecting what they are hearing from their constituents, are moving further toward embracing protectionism. This is a worrisome trend. And it is a trend we must resist," Paulson said in a speech at the Economic Club of Washington.

Paulson said protectionist barriers in this country would hurt U.S. consumers and make the United States less competitive.

"Free trade is one of the cornerstones of our economic success as a nation. We must redouble our efforts to demonstrate the benefits of trade to our standard of living -- and make clear that retreating to economic isolationism would mean fewer jobs, lower incomes, and lower standards of living."

Paulson acknowledged that China was a major factor in the US deficit, and said Washington was working with Beijing to address some factors that skew trade with China.

"We are dissatisfied with the speed with which China is appreciating its currency, the value of which is not market determined, and with China's intellectual property protections," Paulson said, repeating a frequent complaint from Washington.

"We are addressing these issues in our Strategic Economic Dialogue with China, along with China's need to accelerate the process of opening its economy to US products and services."

Still, he said new barriers with China, such as tariffs proposed by some lawmakers, would only stifle trade and economic growth.

"We expect that as China moves forward with its economic reforms, increasingly opening its economy to competition, this will benefit both of our nations," the Treasury chief said.

"Stronger growth in all of our trading partners will sustain our own growth and contribute to a narrower trade deficit."

He said much of the US economy, including millions of jobs, depends on trade.

"Protectionists use the trade deficit as a shorthand criticism of free trade policy," he said. "They try to convince workers and families that we're getting a raw deal when it comes to trade. At best, that's bad economics; at worst, it's demagoguery."

The issue of China's currency values is one of the topics being addressed by the new Strategic Economic Dialogue. This initiative involves top economic policymakers from both countries in twice-a-year meetings. The next session will take place May 23-24 in Washington.

Paulson goes next week to China, his third visit there since joining President Bush's Cabinet in July.

Paulson will meet with Vice Premier Wu Yi. The secretary will hold meetings in Shanghai, China's financial capital, with financial sector leaders and give a speech on Chinese financial market reforms.