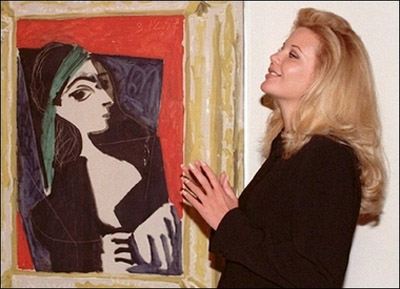 Former Miss Universe Irene Saez admires Picasso's "Portrait of Jacqueline" in 1998. Two Picasso paintings worth a total of 50 million euros have been stolen from the Paris home of the artist's granddaughter. "Maya with Doll" and "Portrait of Jacqueline" were stolen from an apartment in Paris' upmarket seventh district.[AFP]
PARIS - At least two Picasso paintings, worth a total of nearly $66 million, were stolen from the artist's granddaughter's house in Paris, police said Wednesday.
The paintings, "Maya and the Doll" and "Portrait of Jacqueline," disappeared overnight Monday to Tuesday from the chic 7th arrondissement, or district, a Paris police official said.
The official, speaking on condition of anonymity because he was not authorized to speak to the media, said they were worth nearly $66 million.
The director of the Picasso Museum, Anne Baldassari, said several paintings and drawings were stolen from the home of Diana Widmaier-Picasso.
"It was a very large theft," Baldassari said, without giving details.
Police only confirmed the theft of the two paintings.
"Maya and the Doll" portrays Maya Widmaier, the artist's daughter and Widmaier-Picasso's mother.
No other details were immediately available.