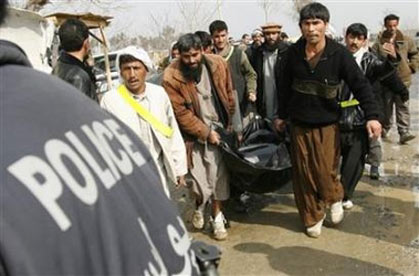 Relatives carry a body after a suicide blast outside the main US military base in Bagram February 27, 2007. [Reuters]


Muscat - US Vice President Dick Cheney was whisked into a bomb shelter immediately after a Taliban suicide bomber struck the main American military base he was visiting in Afghanistan on Tuesday.
Up to 14 people were killed, including one US and one South Korean soldier, in the Bagram air base attack which rebels said was aimed at Cheney.
He had been in his room at the base where he had unexpectedly had to stay the night after bad weather forced postponement of his trip to the capital, Kabul, about 60 km (40 miles) away.
"At 10 am I heard a loud boom," Cheney said.
Base authorities sounded a red alert and secret service officials told Cheney there had been a suspected suicide attack.
"They moved me for a relatively brief period of time to one of the bomb shelters nearby," he said. "As the situation settled down and they got a better sense in terms of what was going on, then I went back to my room until it was time to leave."
NATO's death toll in the attack was four, officials said. A Reuters photographer at the scene saw an additional 10 bodies, putting the total at 14.
A US government contractor, whose nationality was unknown, was among those killed and 27 people were wounded, NATO said.
"We wanted to target ... Cheney," Taliban spokesman Mullah Hayat Khan told Reuters by phone from an undisclosed location.
In Washington, the White House said it was unclear how the suicide bomber had been able to get close to the base.
"At this point, people are still investigating what happened, so we don't have a firm answer for you," White House spokesman Tony Snow told reporters.
Snow called it an "isolated attack" and declined to say whether it was a sign of Taliban strength.
"We've often said about acts of terror: An individual who wants to commit an act of violence or kill him or herself -- very difficult to stop," Snow said.
US President George W. Bush's initial reaction to the attack was concern about whether Cheney was all right, he said.
Soon after the blast, Cheney -- who officials say was never in danger from the blast at the sprawling base -- went ahead with talks with Afghan President Hamid Karzai in the capital.
Asked if he had ever considered changing his plans to go to Kabul, Cheney said that was "never an option."
Snowed In
The meeting had been scheduled for Monday, but was delayed when Cheney was snowed in at Bagram soon after arriving from Islamabad on a visit shrouded in secrecy because of security.
"They clearly try to find ways to question the authority of the central government," Cheney told reporters traveling with him out of Afghanistan on a military plane to Oman.
"Striking at Bagram with a suicide bomber I suppose is one way to do that."
Cheney left Muscat later on Tuesday for Washington.
A senior administration official briefing journalists during the flight from Afghanistan said the purpose of Cheney's visit had been to voice concerns about the threat from al Qaeda and its Taliban allies on the Afghan and Pakistani borders.
"We have all got an interest obviously in trying to address" those issues, the official said.
Washington has said al Qaeda and the Taliban were regrouping on Pakistan and Afghan soil.
The United States has 27,000 soldiers in Afghanistan, where it says defeating the Taliban is vital for its own security.
Last year was the bloodiest since the US-led forces ousted the Taliban's Islamist government in 2001 for refusing to surrender Osama bin Laden in the wake of September 11.
Opium Funds
Bolstered by money from record opium crops and safe havens in Pakistan, the Taliban have vowed a spring offensive -- including an increase in suicide attacks -- as the snows melt in coming weeks.
Suicide attacks, virtually unheard of until 2005 when there were 21, jumped to 139 last year.
With the expected upsurge in fighting, Britain said on Monday it would send another 1,400 troops to Afghanistan.
In Pakistan, Cheney had pressed President Pervez Musharraf to do more about the Taliban and other militants using its territory for shelter and training.
Citing US officials, ABC News reported CIA deputy director Stephen Kappes had also shown Musharraf "compelling" CIA evidence of al Qaeda's resurgence on Pakistani soil.
The CIA evidence was said to include surveillance satellite photos pinpointing the locations of several new al Qaeda camps in the Pakistani border province of Waziristan, ABC reported.